packing "list"
this was just credit card touring, and being such i wanted to see how minimally i could pack. a little experiment to see if i wish i packed more, or possibly even less. i brought a carradice nelson longflap bag, which was supported by a nitto 33r large rear rack. if you read my fontainebleau ride report, you'll see i attempted to go rackless, and that was my experimental trip. i have a bagman rack at home i have used a few times, but opted at the last minute not to bring it to france. luckily, the good folks at la chouette had the nitto rack in stock and i could get it installed same day a few weeks back to solve the issue. i read through the old jobst brandt "guide to bicycle touring in europe" to get some ideas as to what to bring. in the rear bag i packed two linen shirts, a pair of shorts, a pair of linen pants, a lightweight fleece sweater, a rain jacket, a book, sketchbook, a bag of pens, a toiletry bag, and a bag of tools (patch kit, 2 spare tubes, chain lube, multi-tool, and an opinel knife). the first four articles of clothing were just for the 48 hours in deauville. in the front i had an acorn handle bar bag to hold the charging brick, cords, snacks, and - when it rained - my sony a6000. i wore one cycling outfit for the 5 days that consisted of a wool jersey (found at la chouette for €30 while buying my rack), black target swim trunks (lookin for that quick dry element), a cycling cap, and a pair of keens. i have been reading up on merino wool jerseys and meant to be buy one before i left the states, but time got the better of me. stoked i found one out here. that jersey lived up to what i was reading. minimal odor, and i could rinse the jersey at night and expect it to be dry by morning if need be.
_________________________________________
day 1: 63 miles - paris to aubergenville.
A few extra due to not minding the map. oh well, that's meandering. we fished our way through the canals in paris and onto the seine in saint-denis. it was a bit slow moving to get out of paris (at one point we had to hop a jersey barrier for no apparent reason), but it was a good mix of terrain once we started moving. at one point, we had to take a slight detour from the canal for some construction, which led us down a bottle neck clogged with some french national police. even though i am coming from a country known to have a hard on for the military and guns, its still so strange and jarring to see a large presence of military police and ARs here in paris.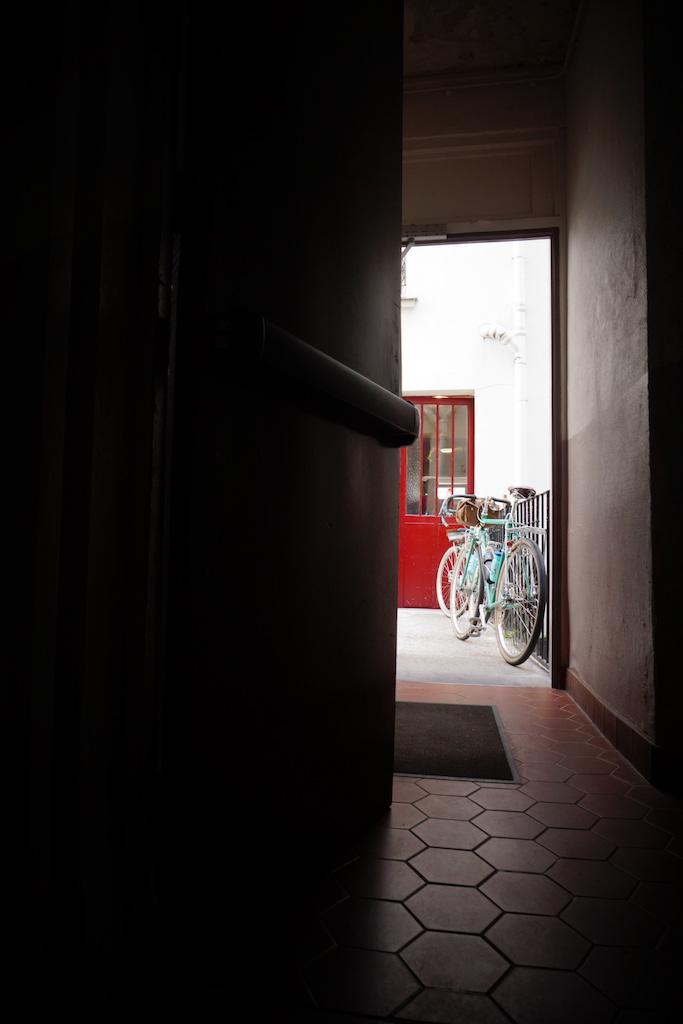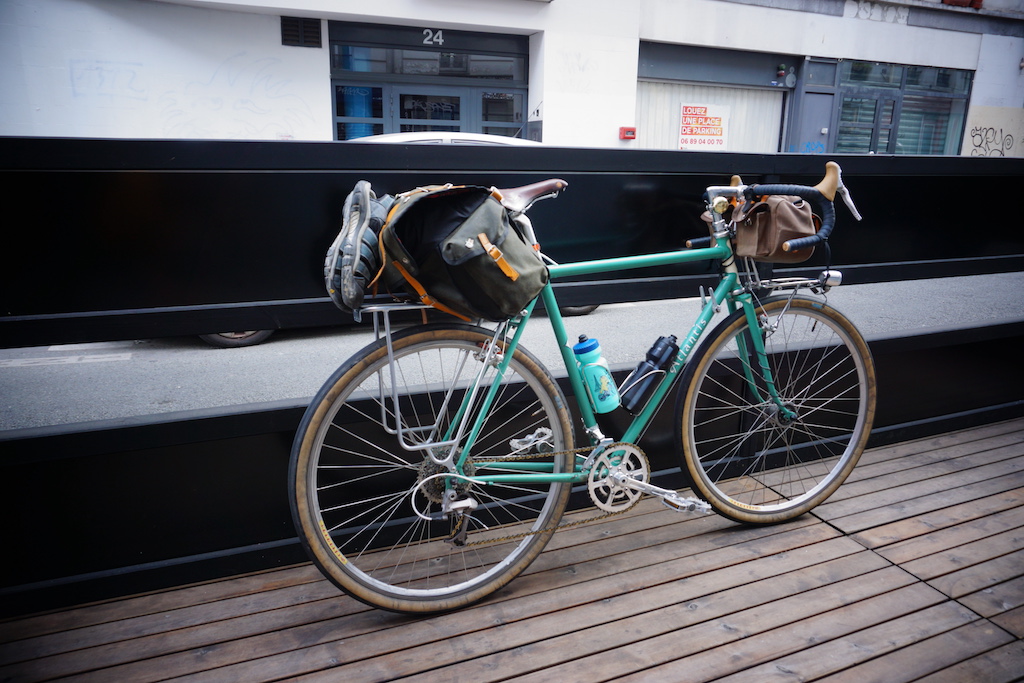 if you're wondering whats on my feet if the keens are on my bag, i orginally rode out on my wannabe julien stranger blue vans authentics. i've worn them skating and cycling for over a year - always barefoot, so this was their last ride. their stench finally overcame me as i attempted to put them back on the morning of day 2. ✞ left them to die in aubergenville ✞.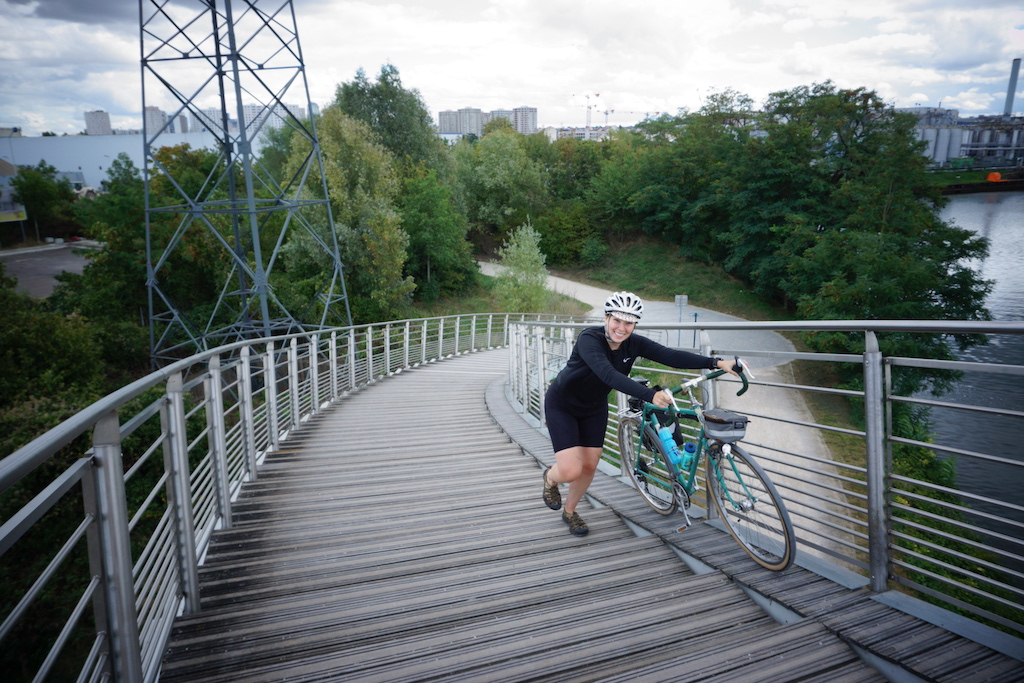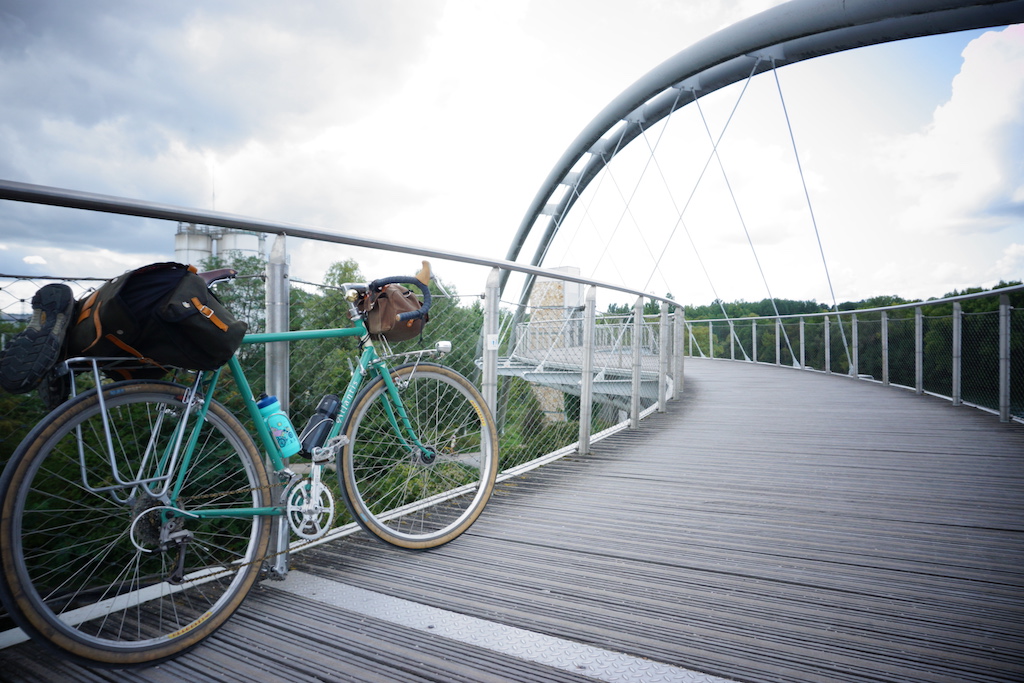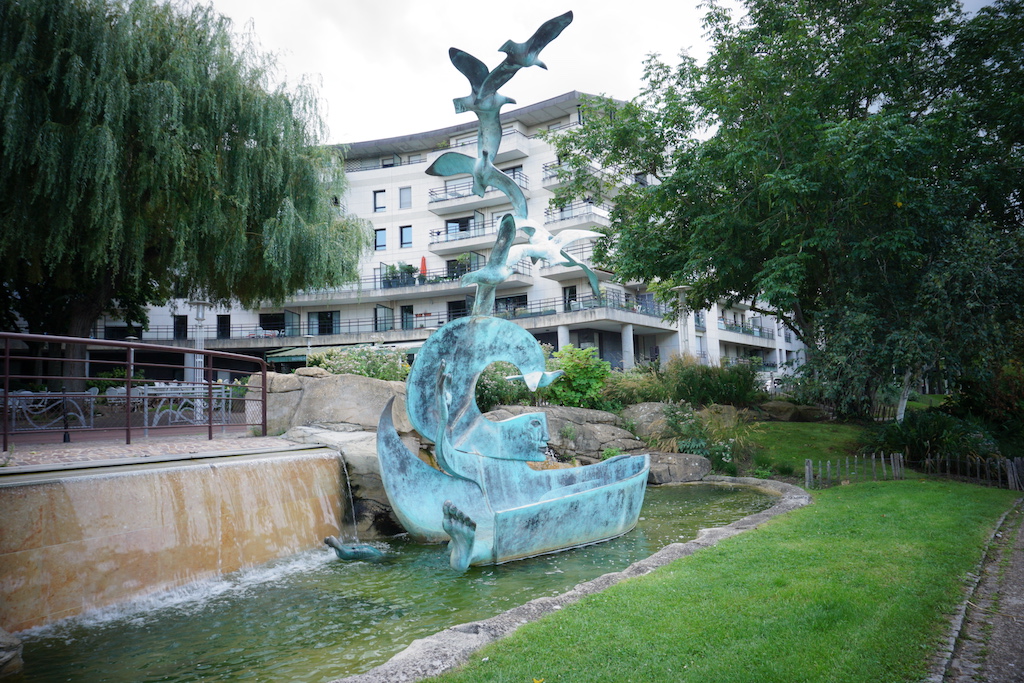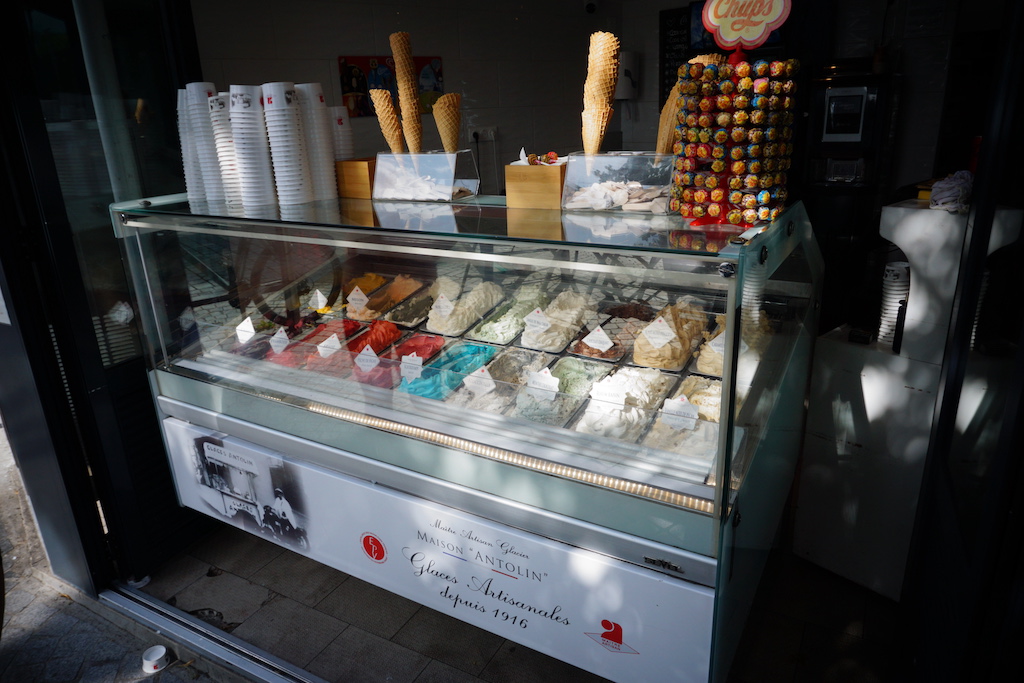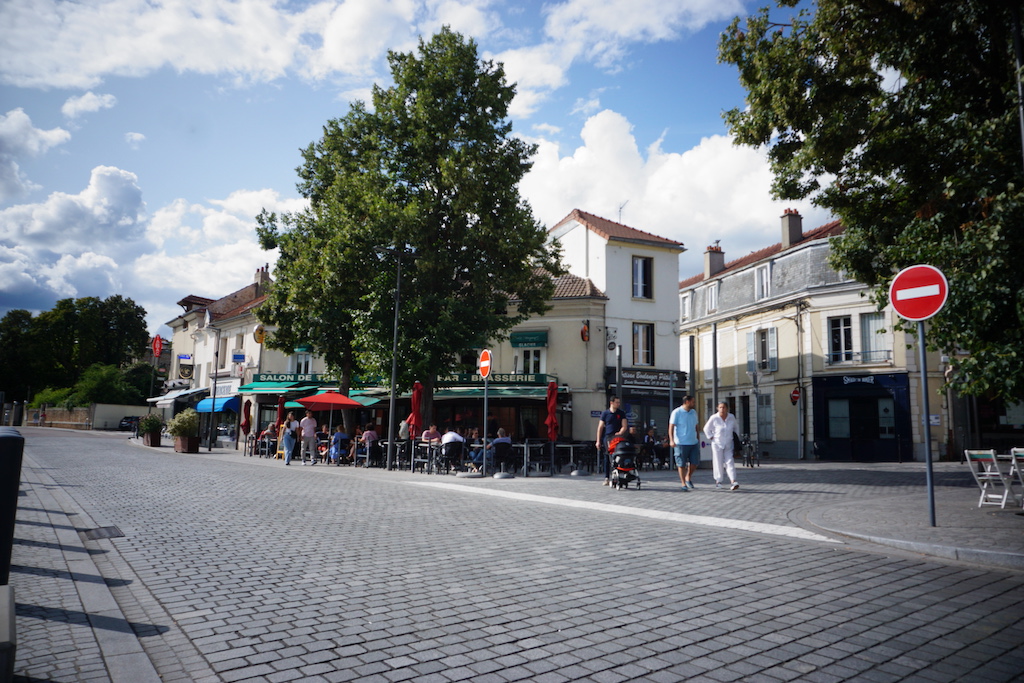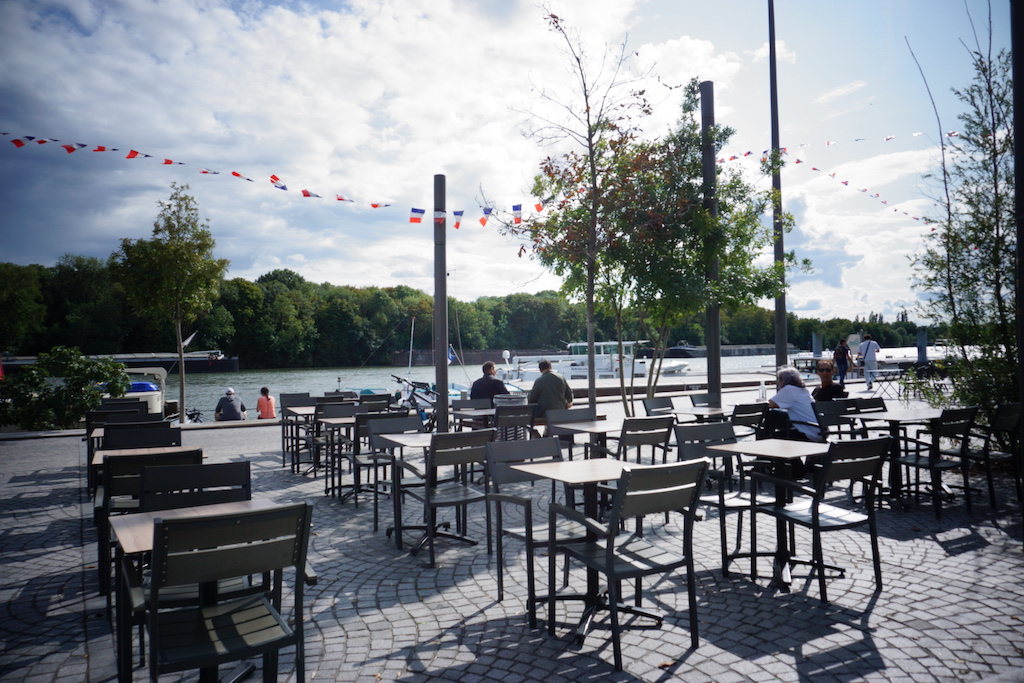 scenic setting for some refueling on gelato. stracciatella always.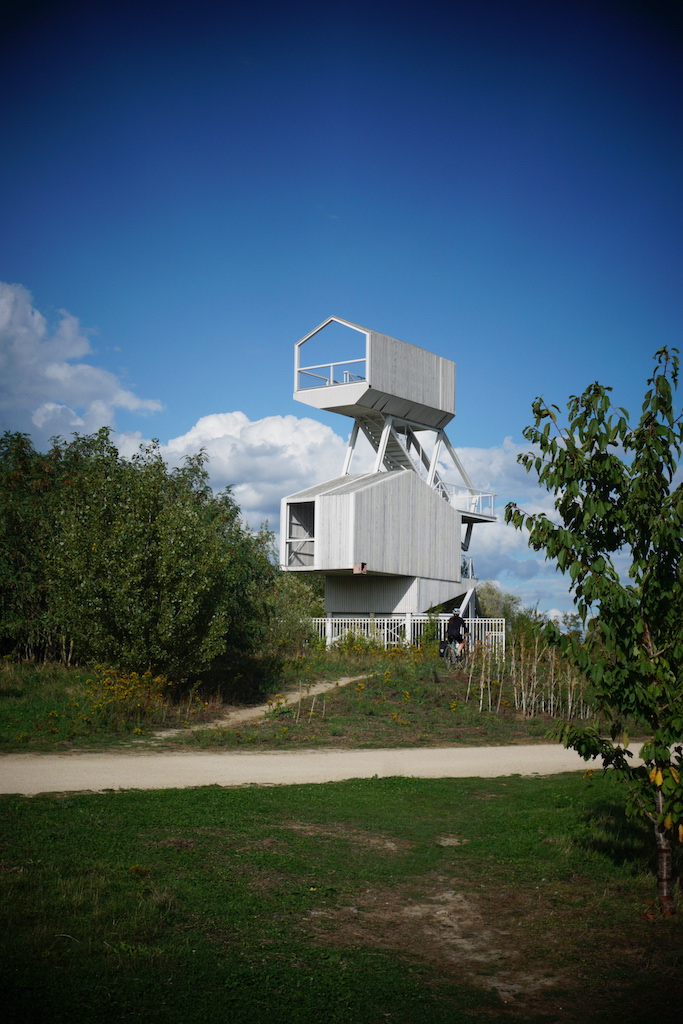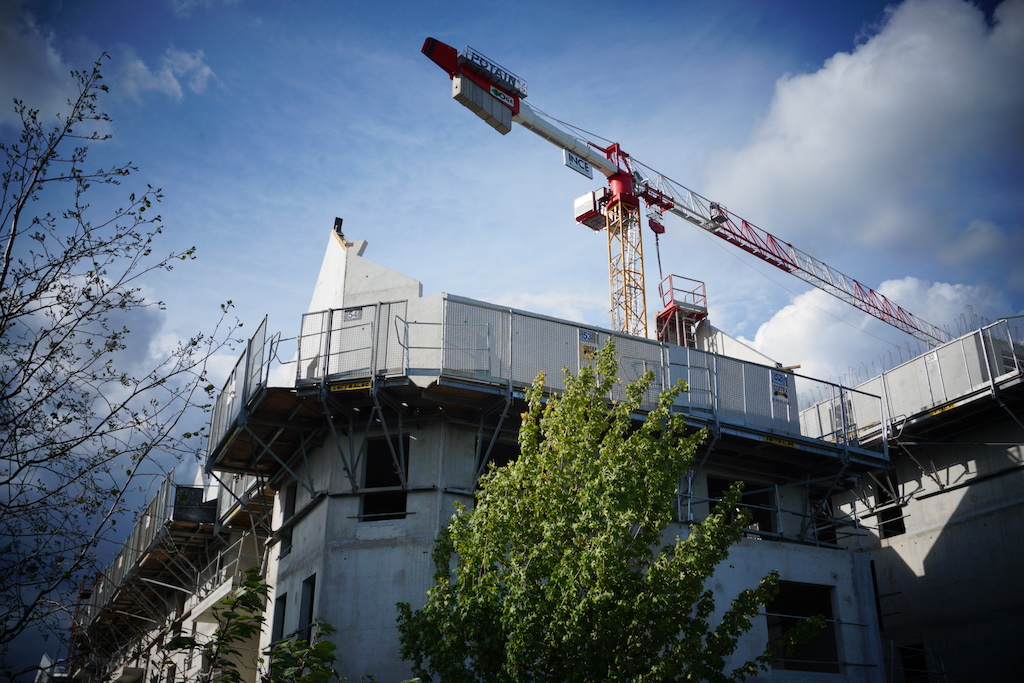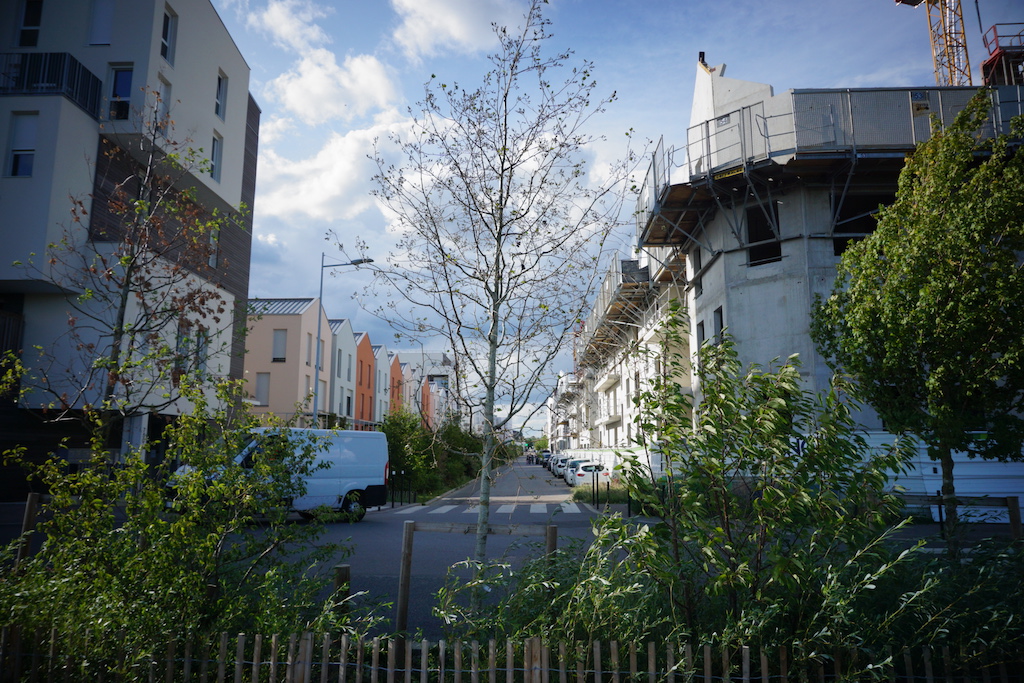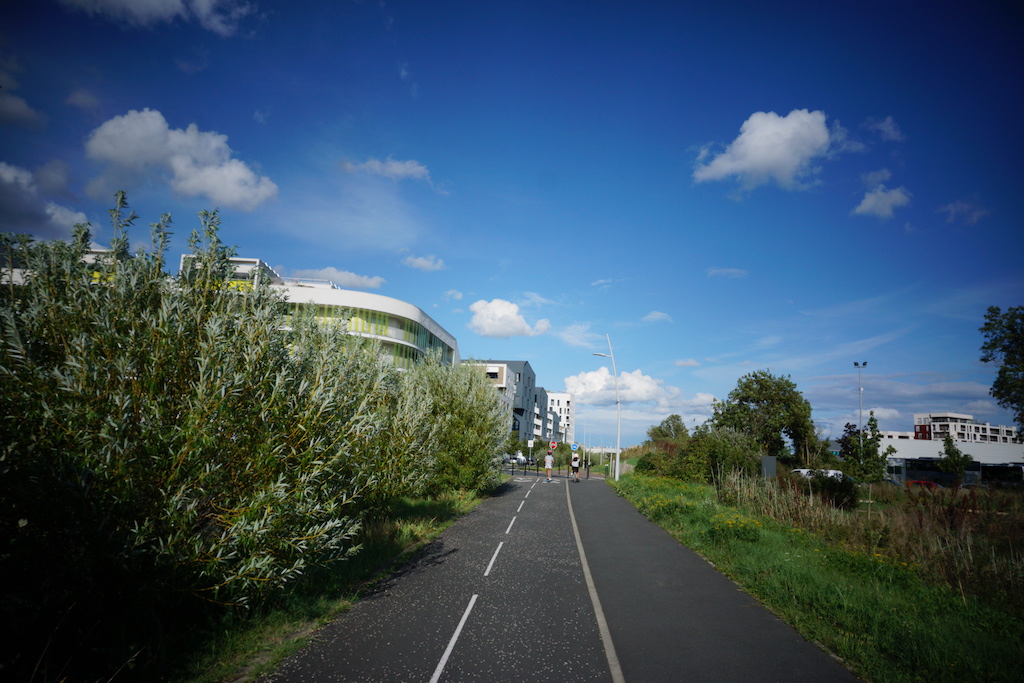 as we cruised through the water front park and bicycle trail in carrières-sous-poissy, it was refreshing to see some new moderate density housing being built along the path. you could see how this bicycle path was serving not just its purpose as a touring route, but an also as an everday amenity for residents in the towns it crossed.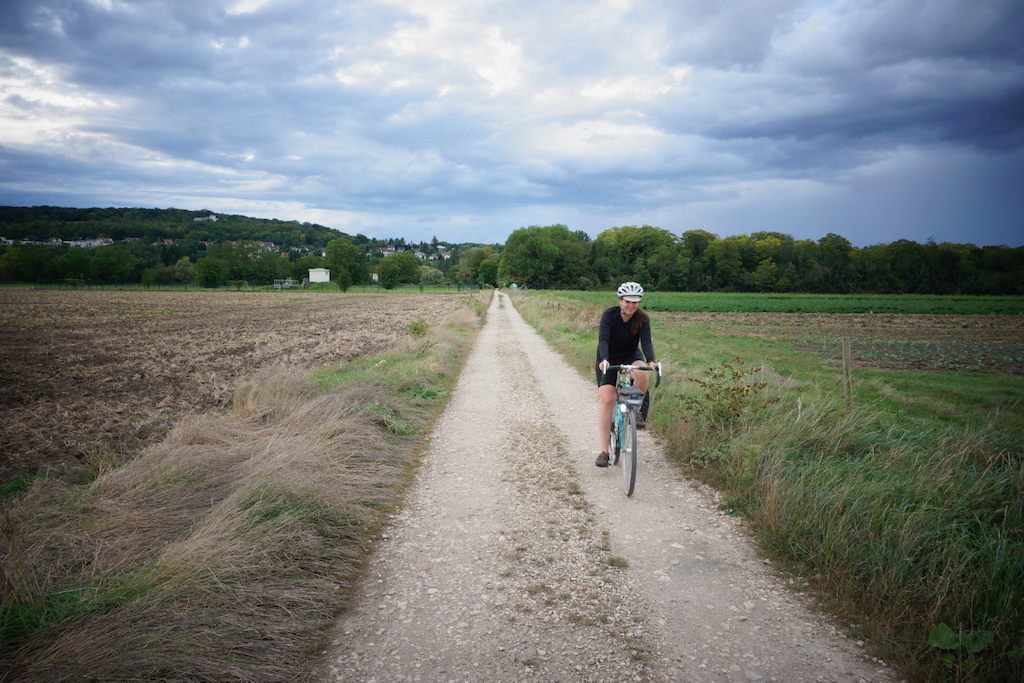 _________________________________________
day 2: 54 mi - aubergenville to les andelys
we had had a quick breakfast, ate some organic dutch sour candy along the river, and we were on our way for the day. day 2's route was a bit more inland than day 1's. we took a detour from the marked route to avoid a two lane highway (D148) just outside follainville dennemont. we rode down the hill instead to ride a dirt path that parrelled the highway. we shared the single track with some horse riders. we got lunch and avoided a quick downpour. however, it wouldn't be long until the rain caught us. we entered an area long battled over between the english and french. the river in this section is lined with old bridges and fortifications, and some funky old carved hangouts in the limestone cliffs. plenty of english tourists among us. most dont seem to want to try their hand at speaking french.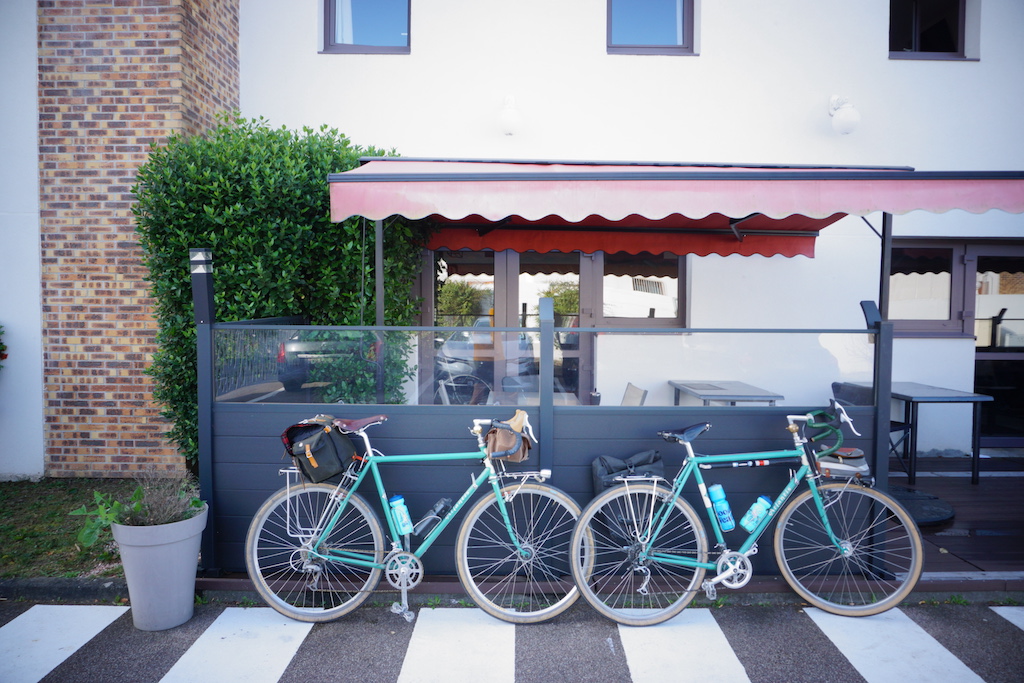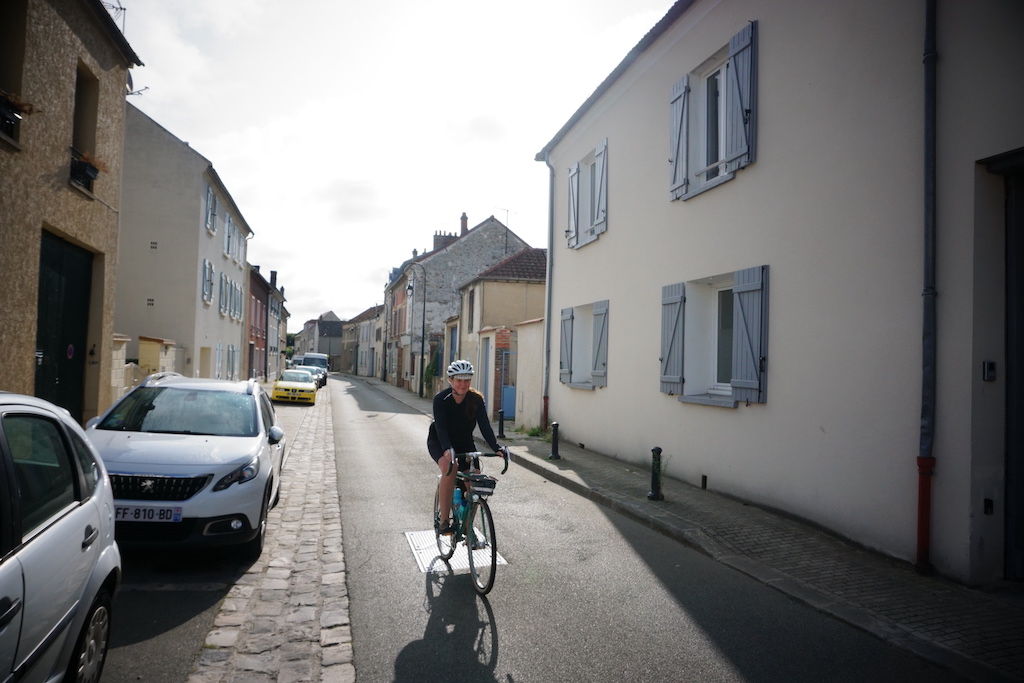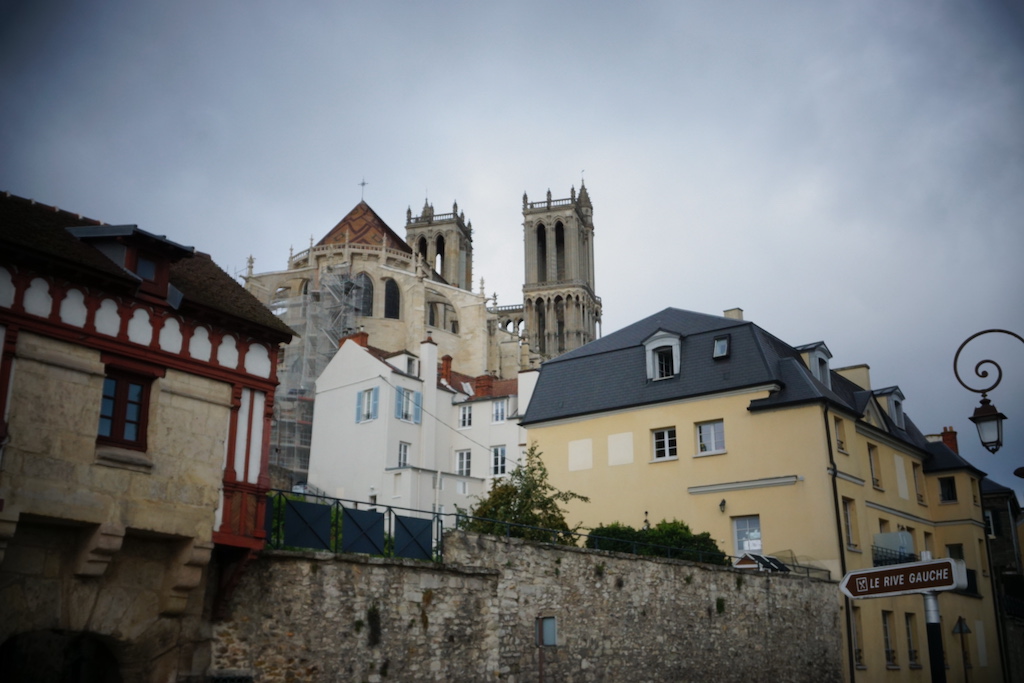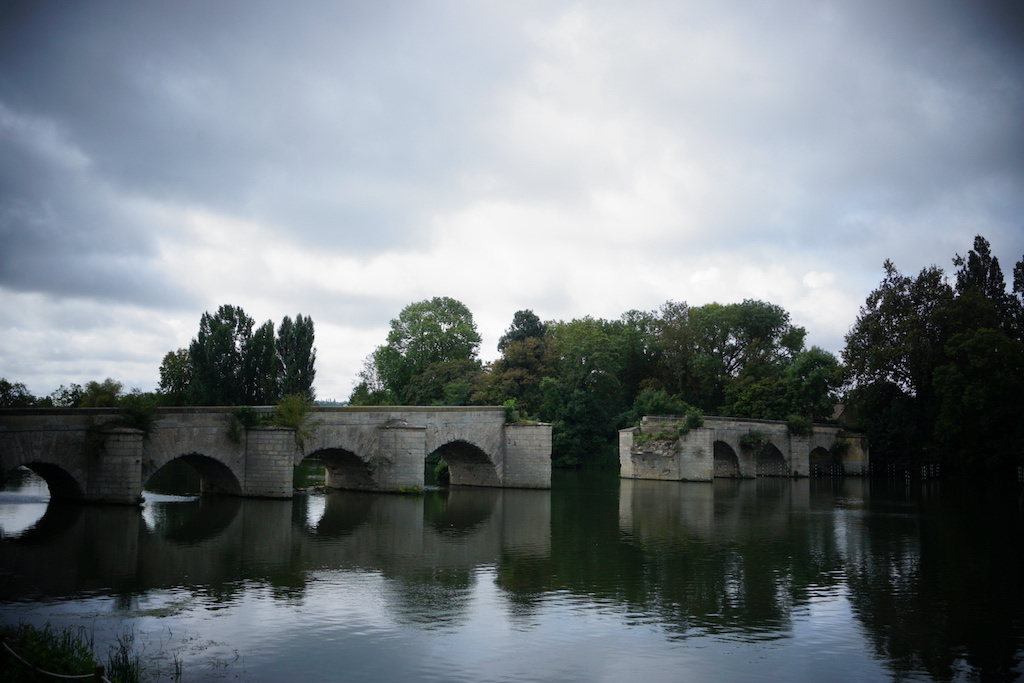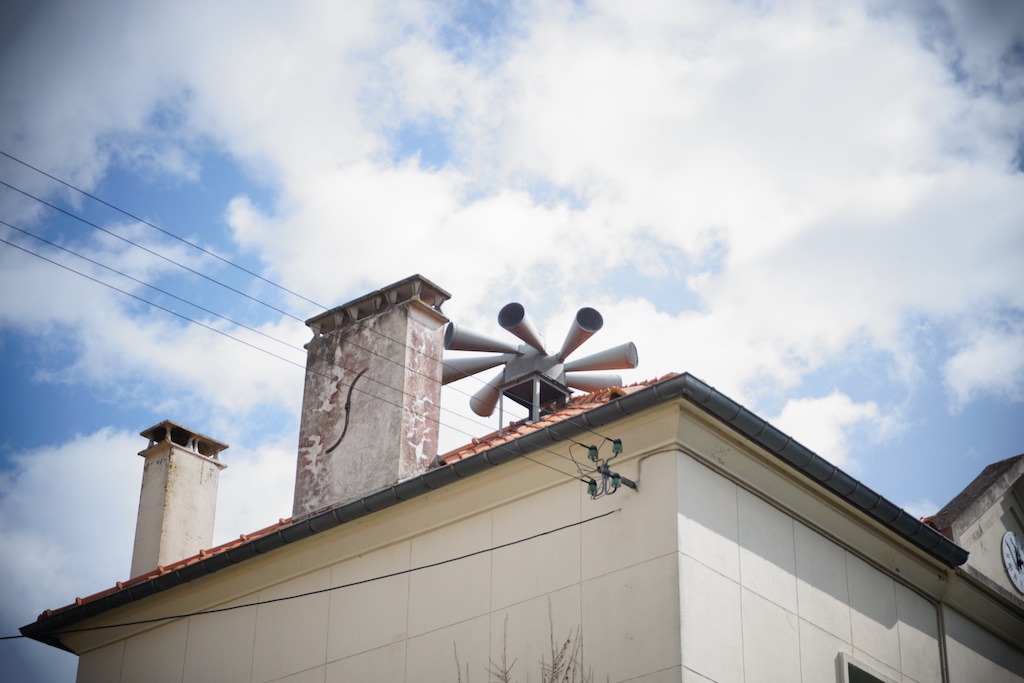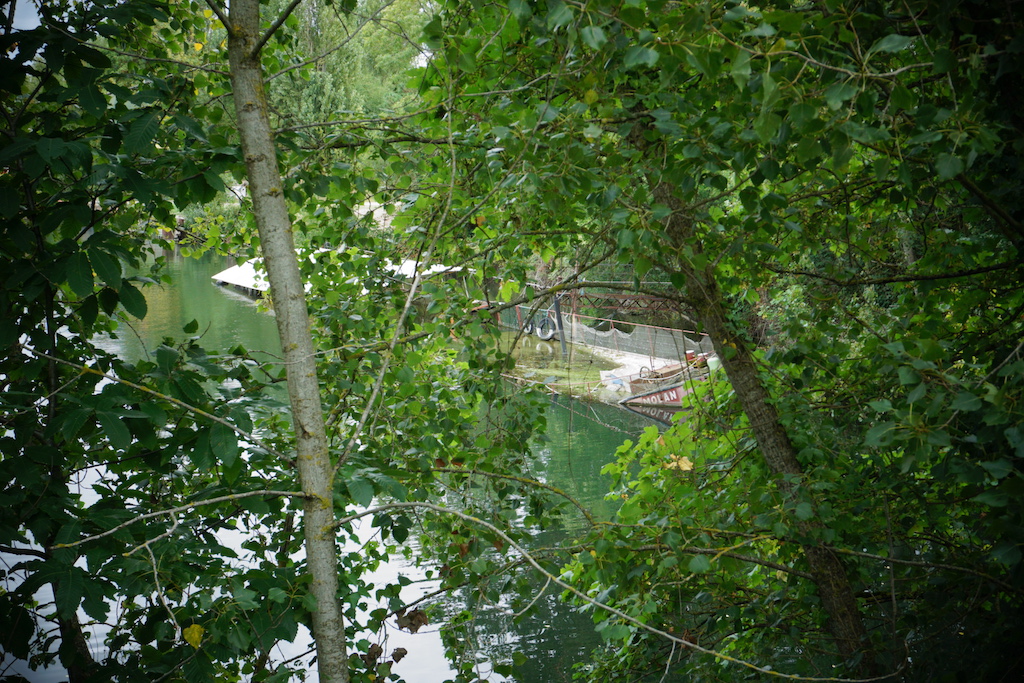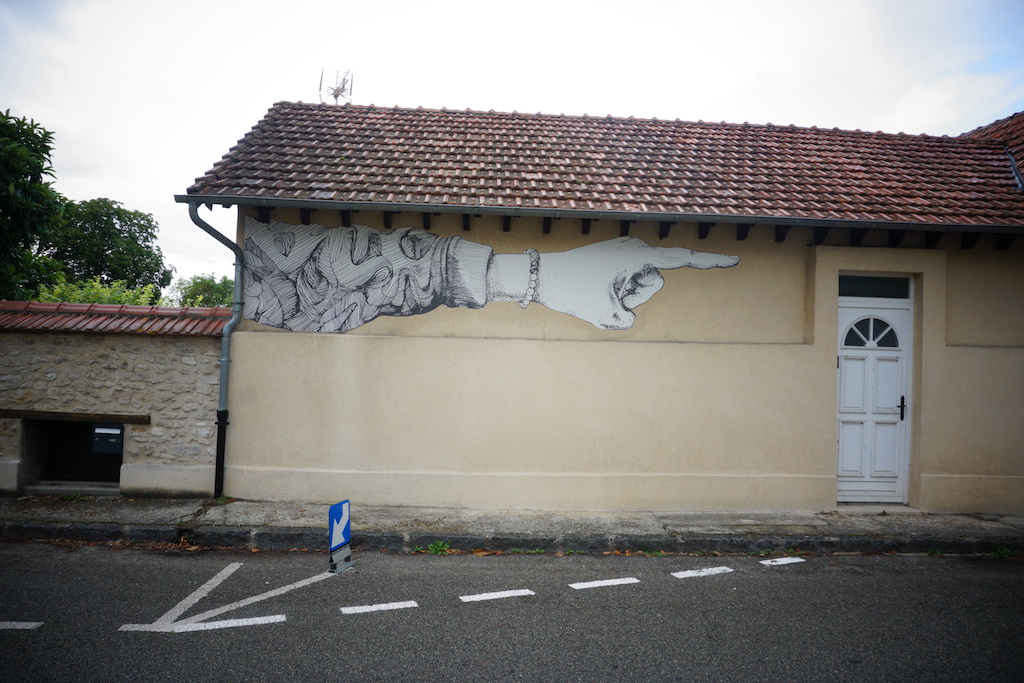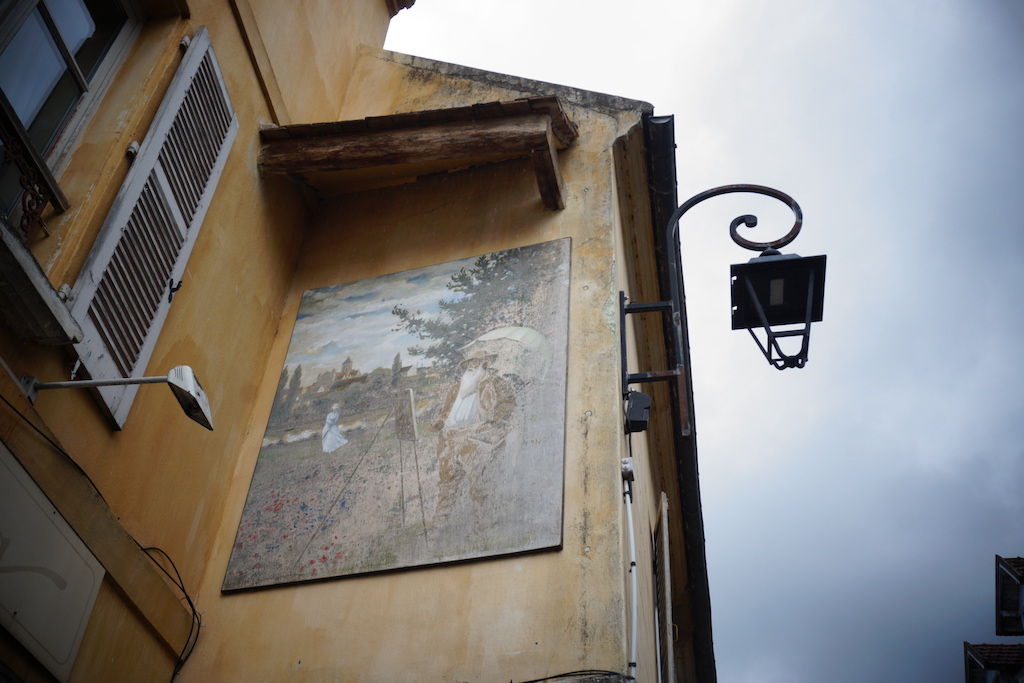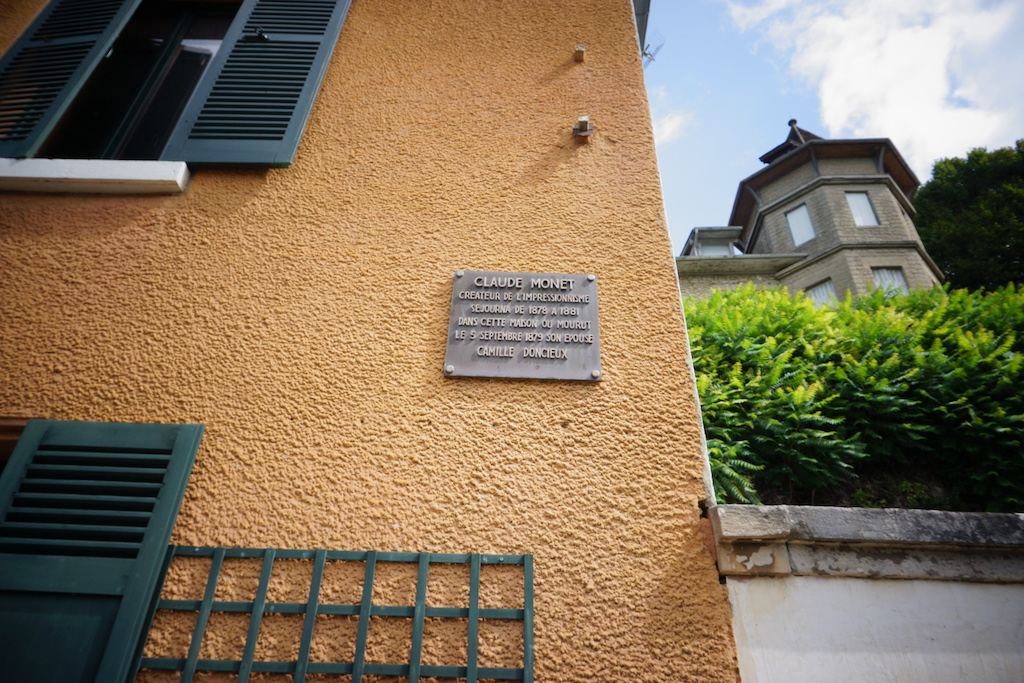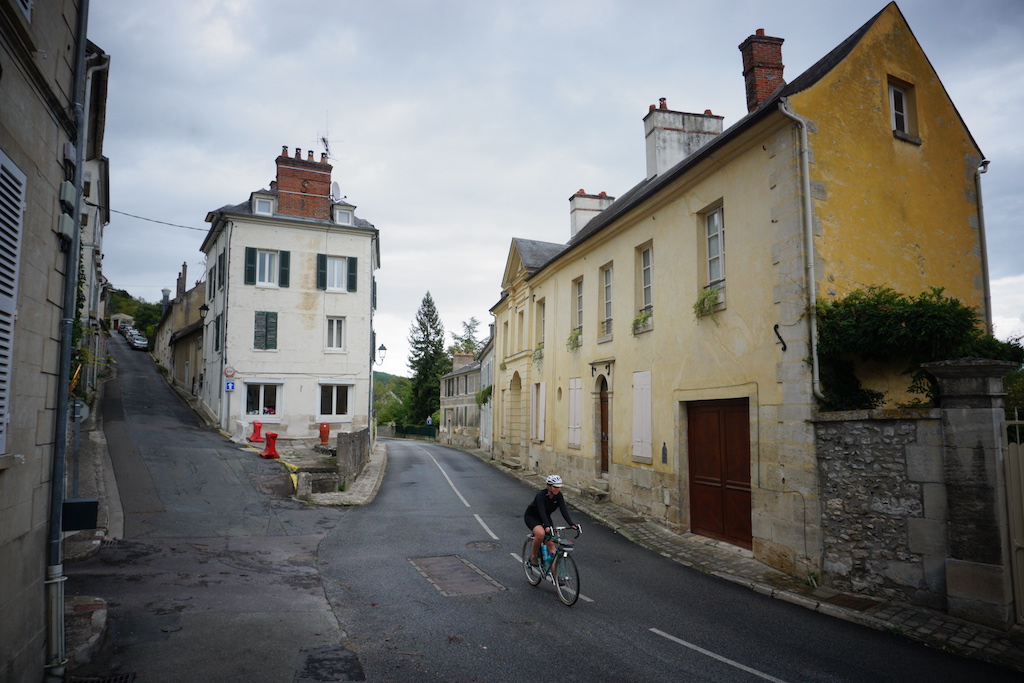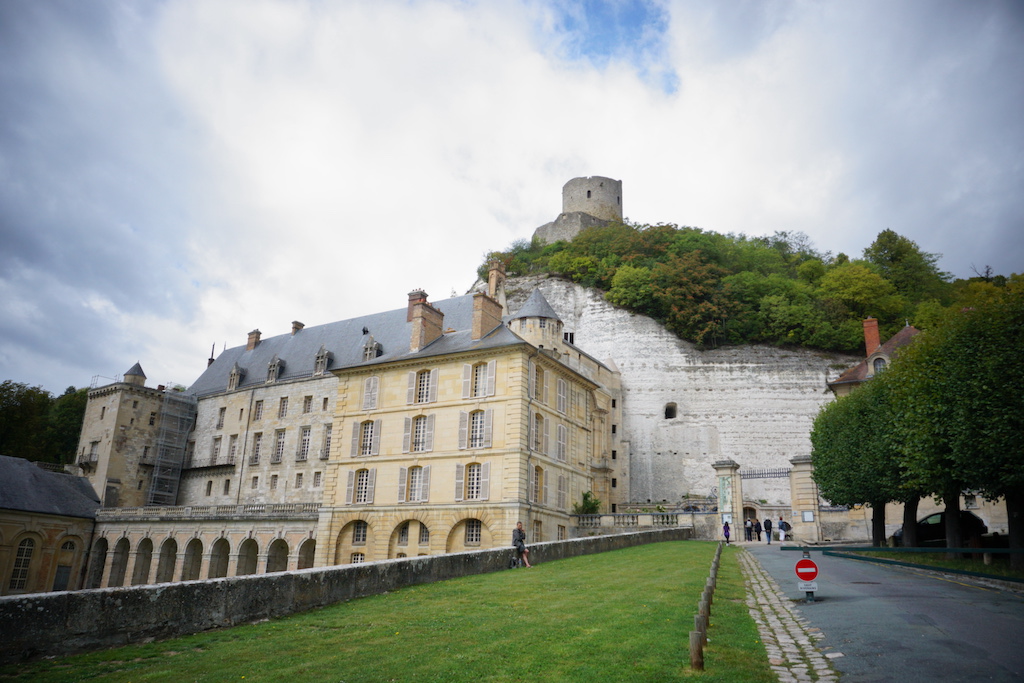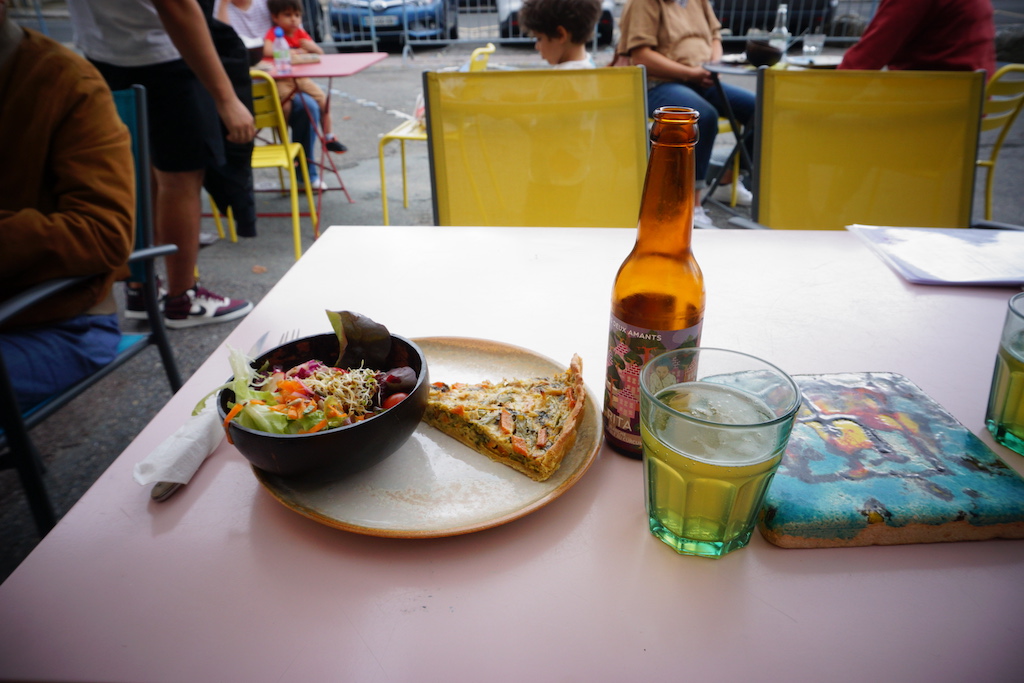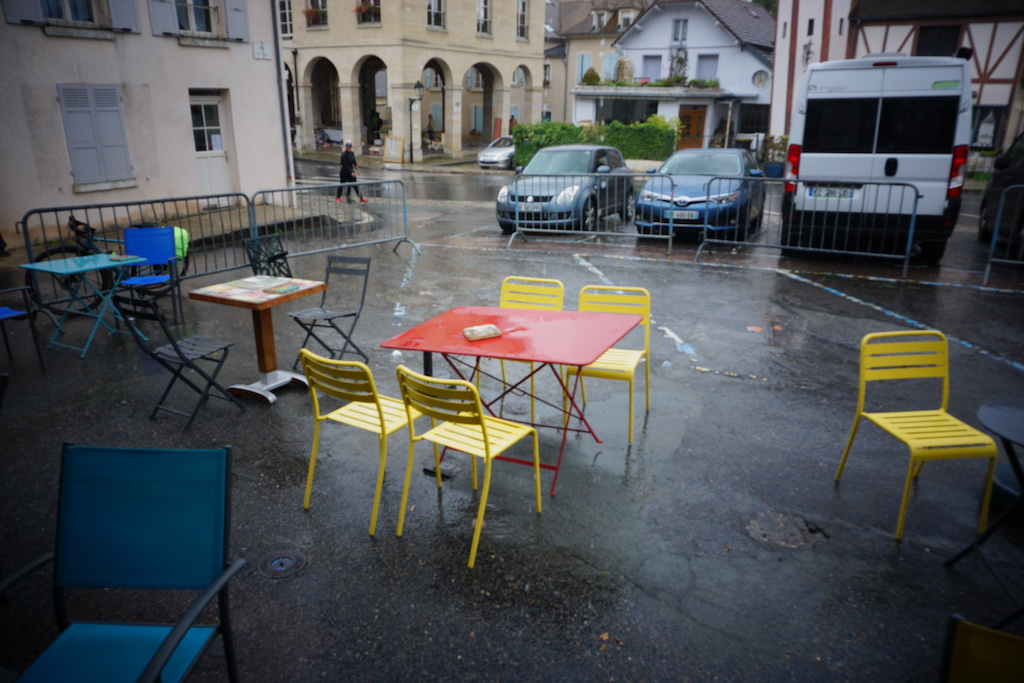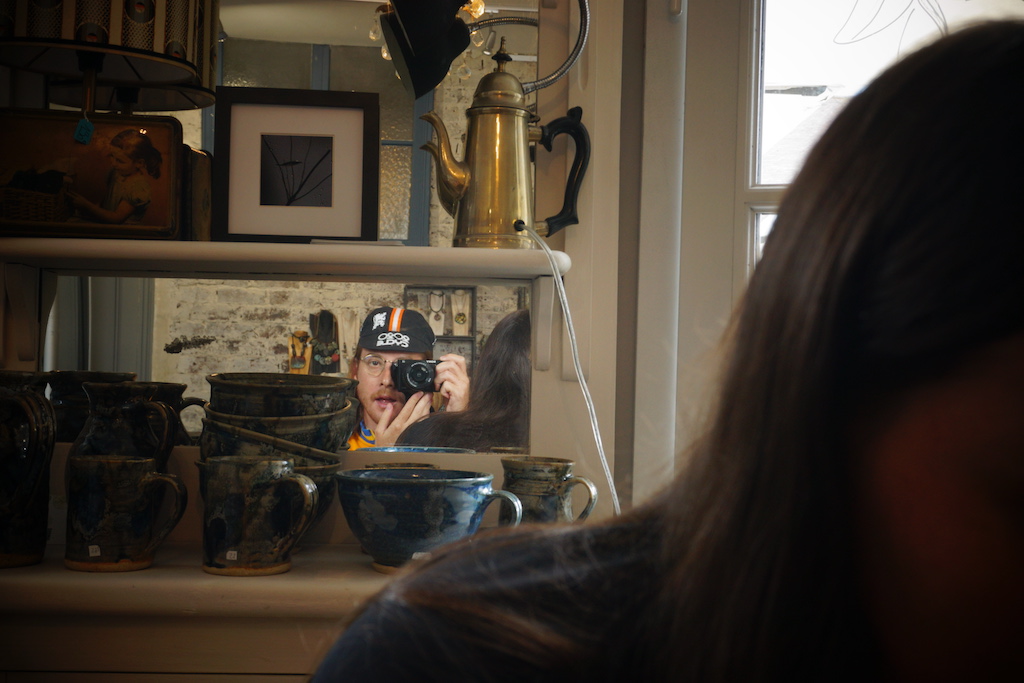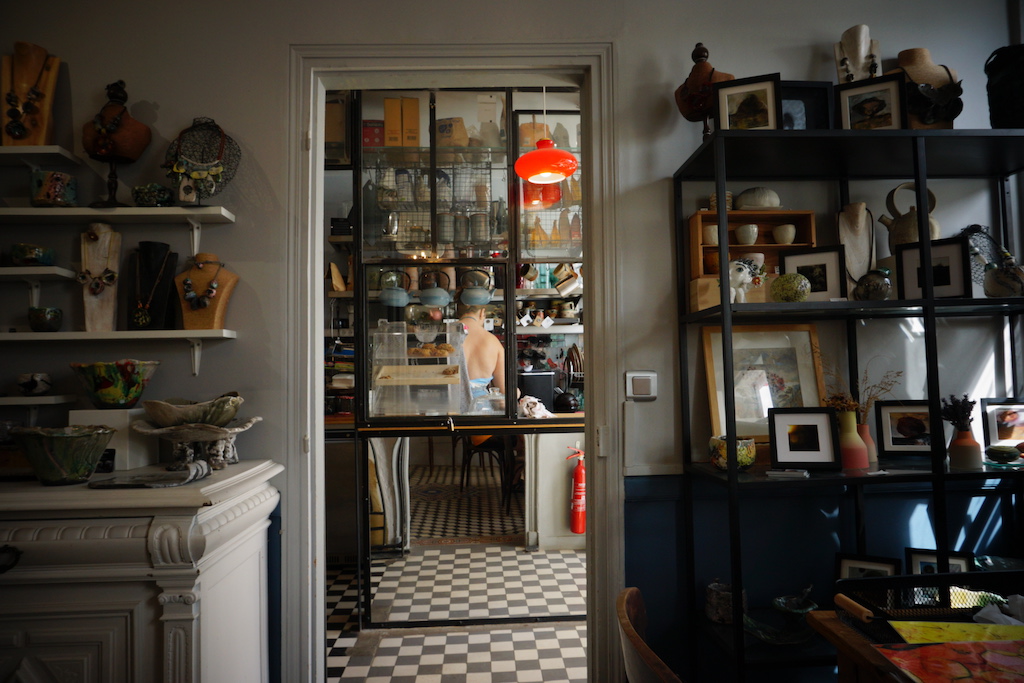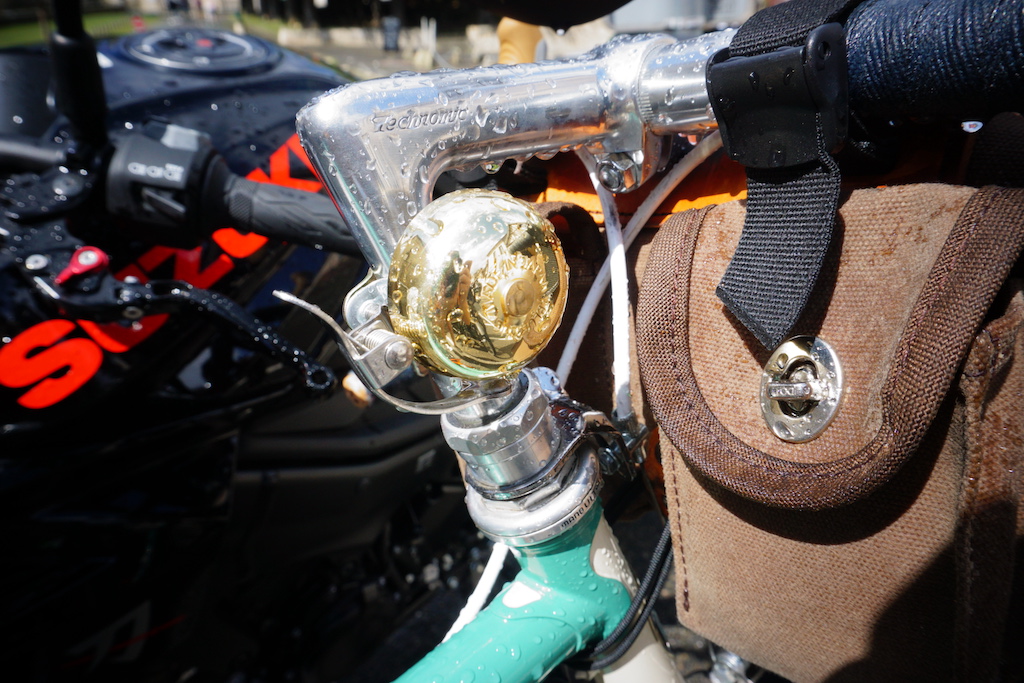 quick but heavy down pour. the waxed canvas held up more than well.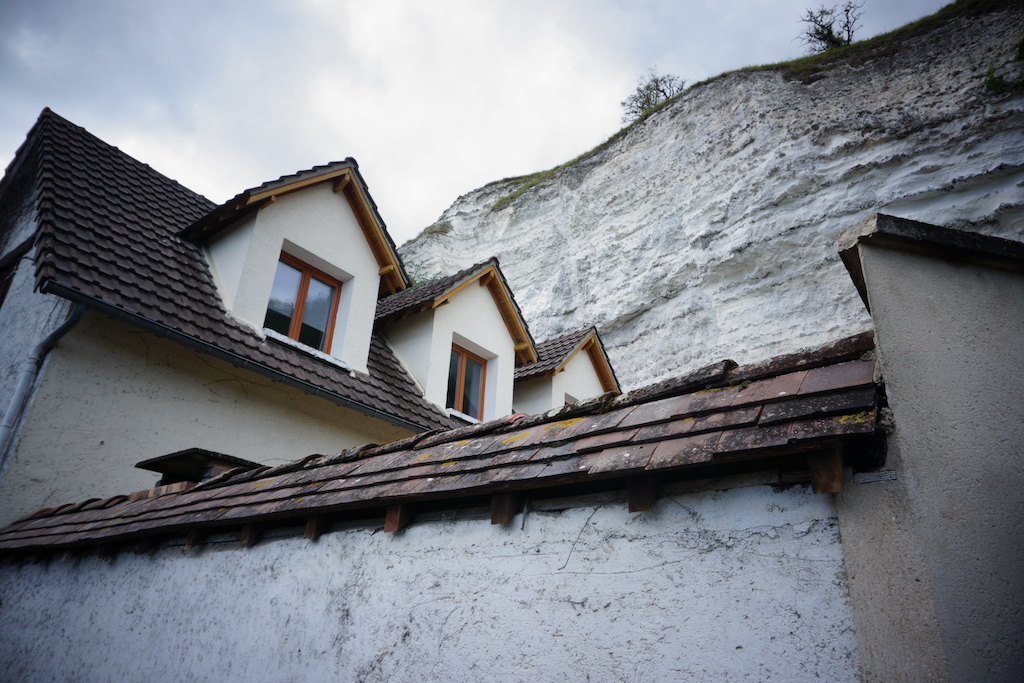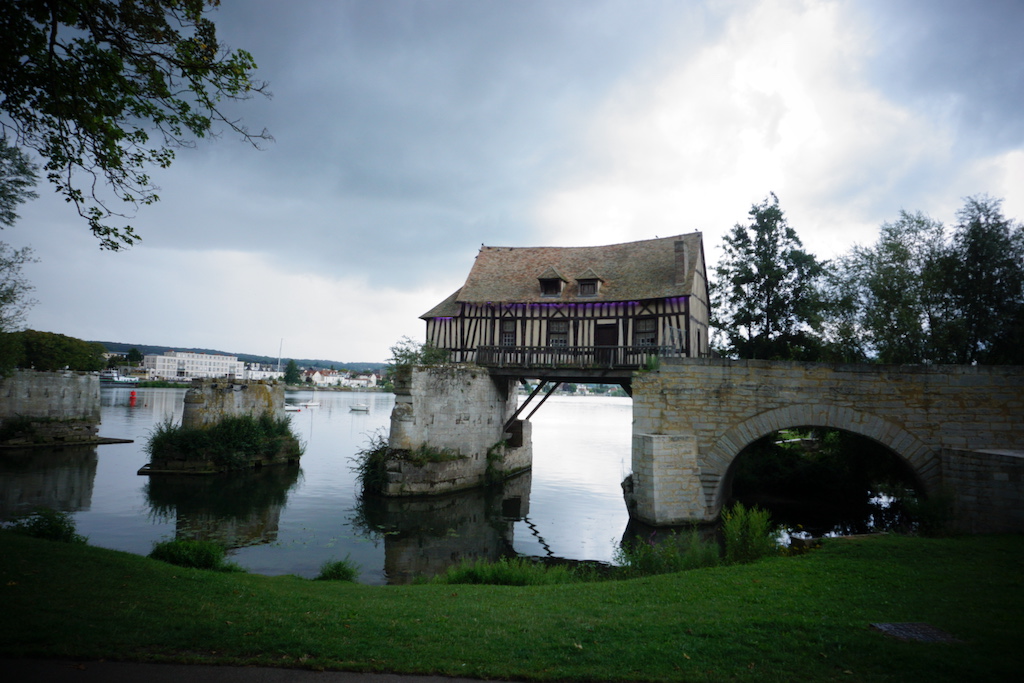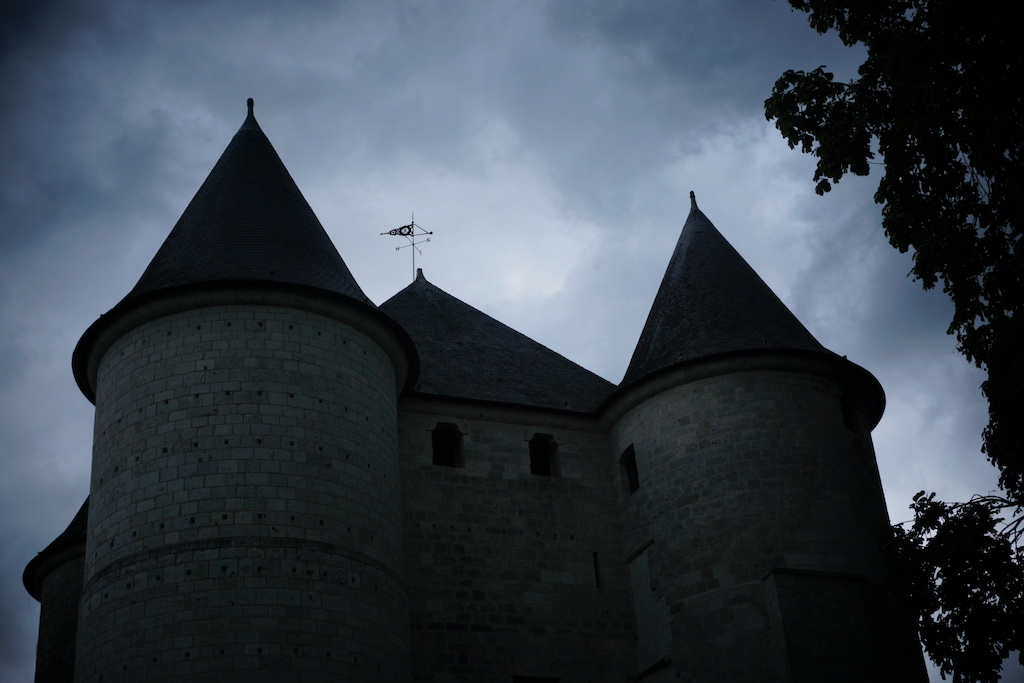 château des tourelles - its role was to defend vernon located on the border of the Duchy of Normandy with the Kingdom of France.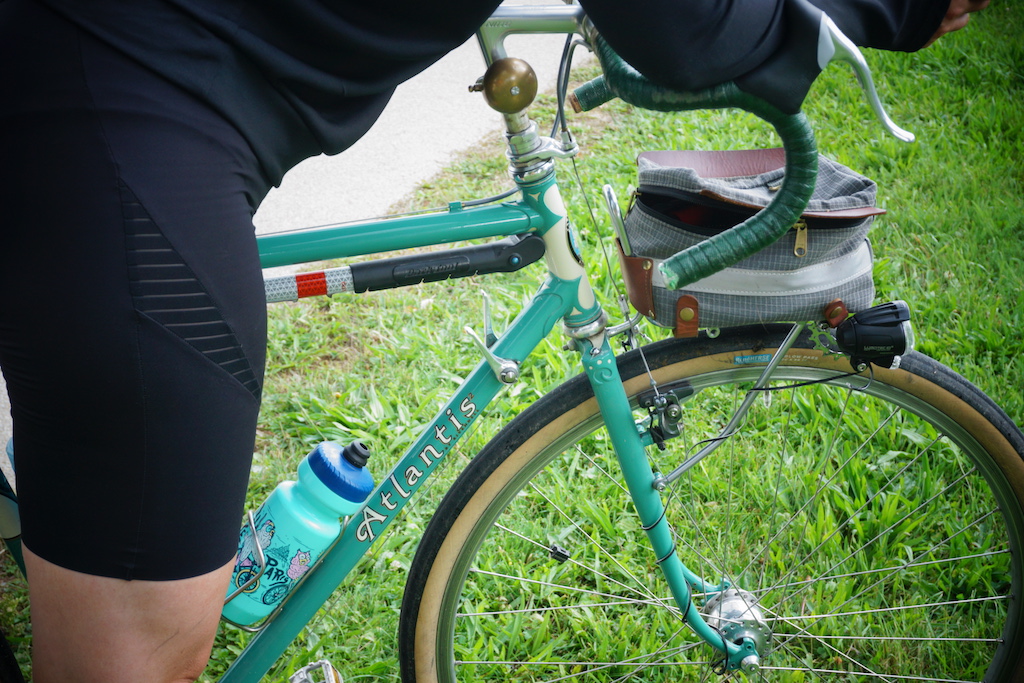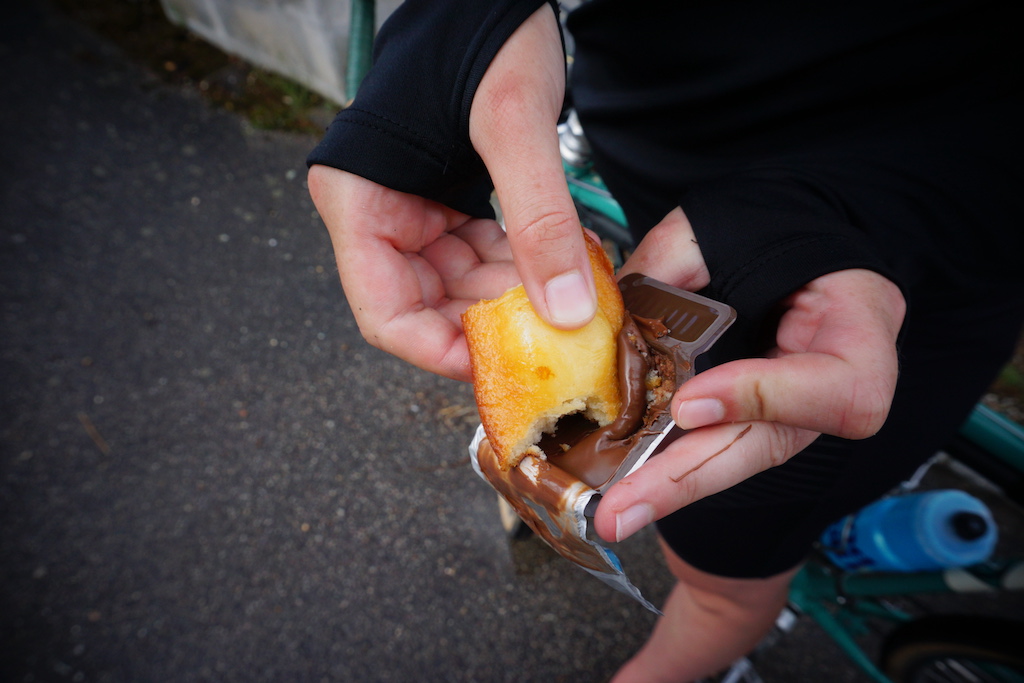 a final bready and sugary push to les andelys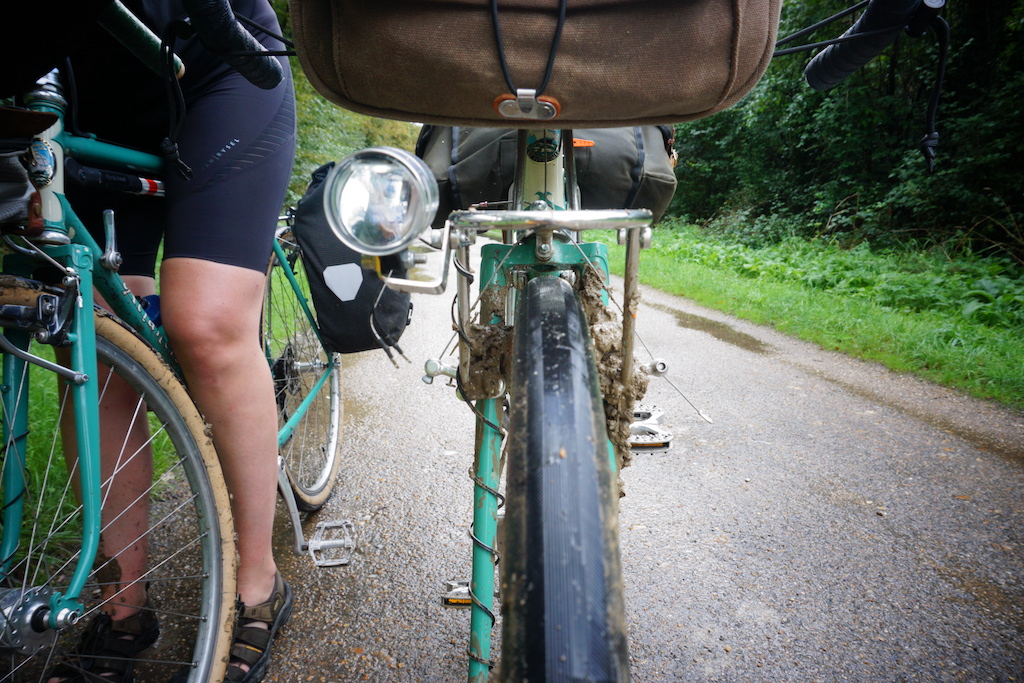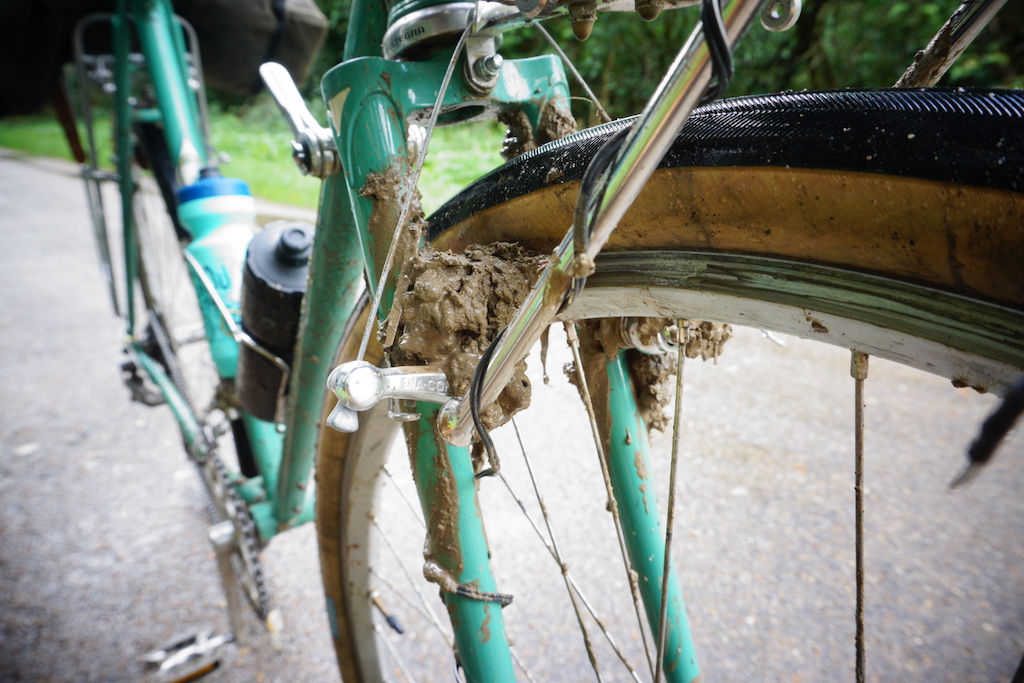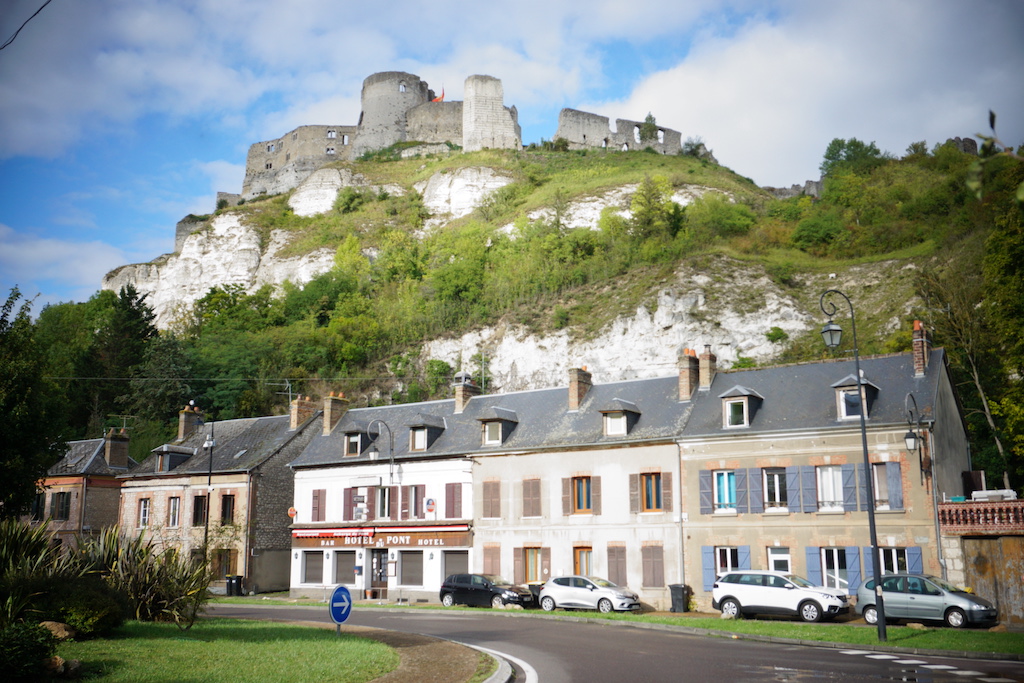 château-gaillard - built by richard the lionheart from 1196 to 1198 to protect his anglo-norman duchy. a masterpiece of defensive architecture known to be impregnable. after richard's death in 1199, his brother, John Lackland, inherited it. But in 1204, Philippe Auguste seized it, thus marking the attachment of Normandy to the Kingdom of France.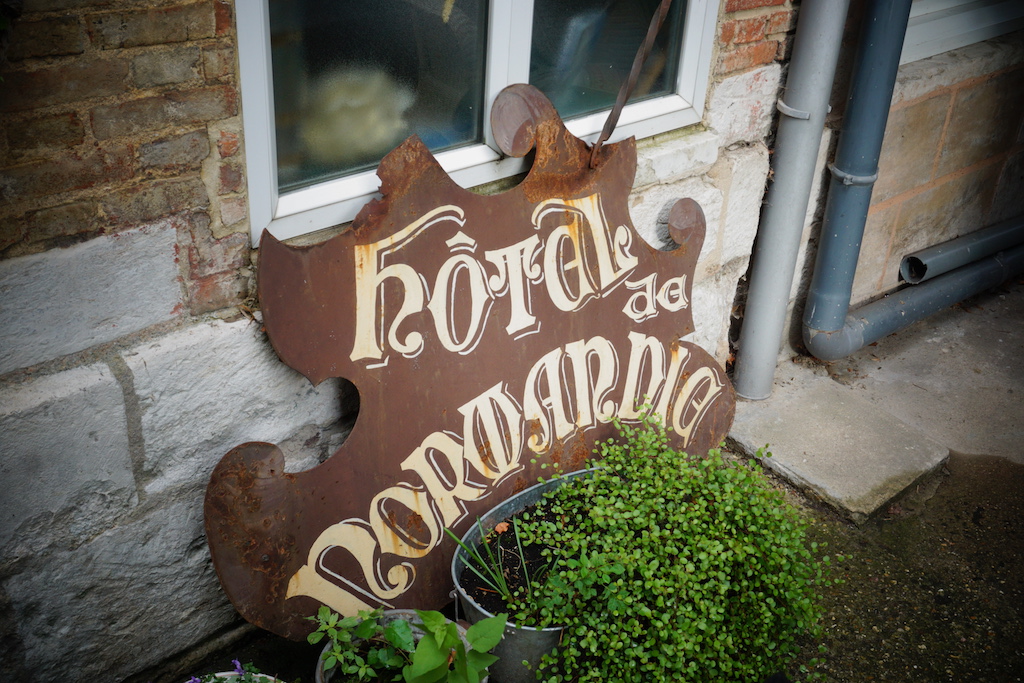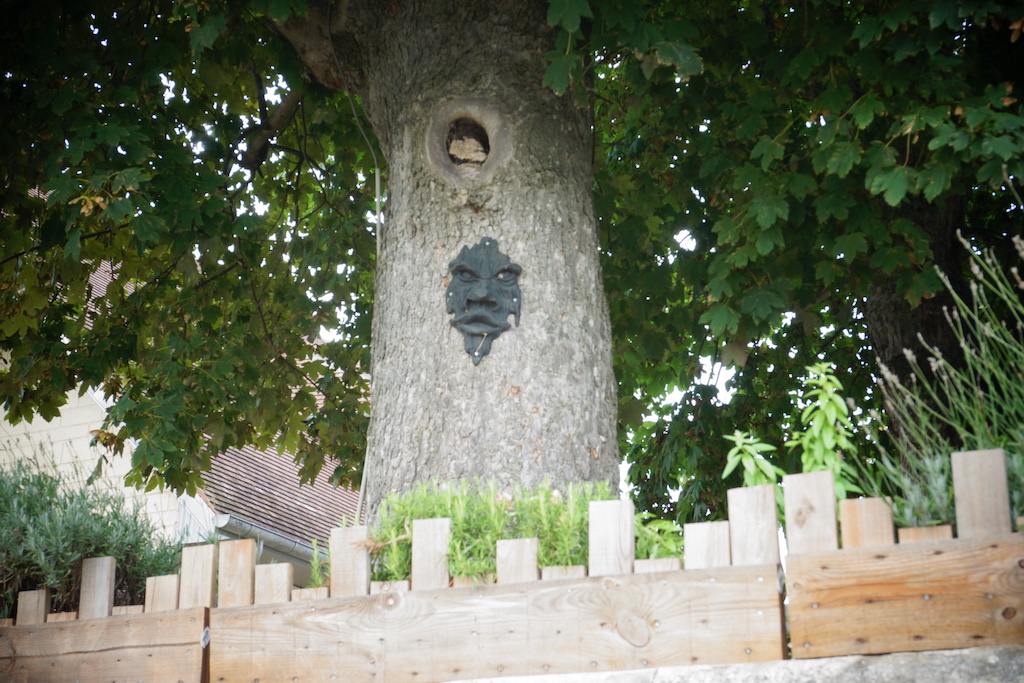 i've recognized this face on a tree in my own neighborhood in seattle. had to document it being here in normandy as well.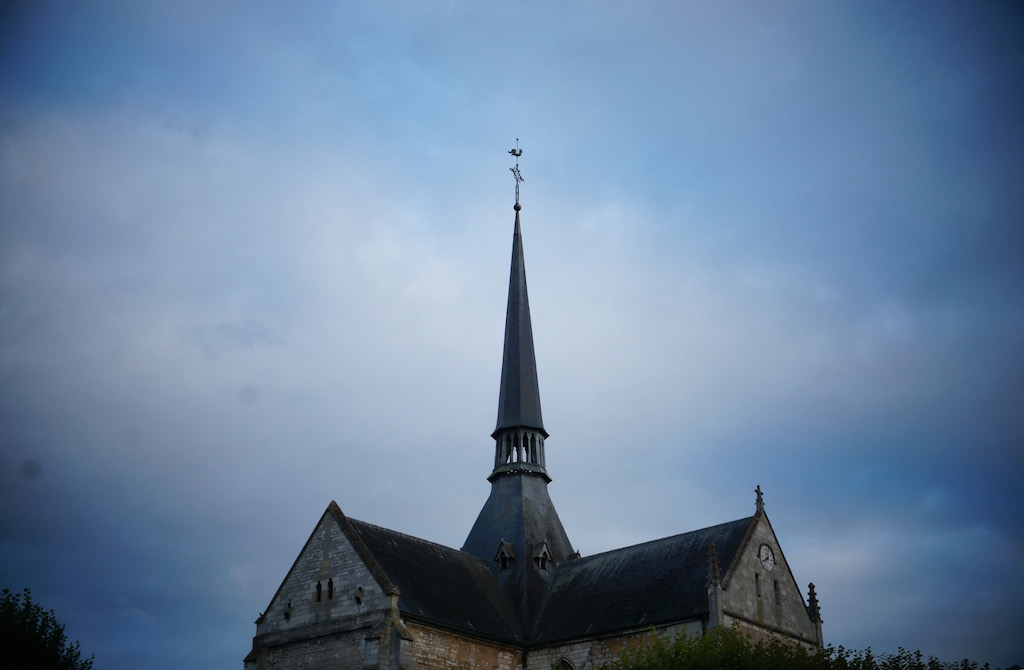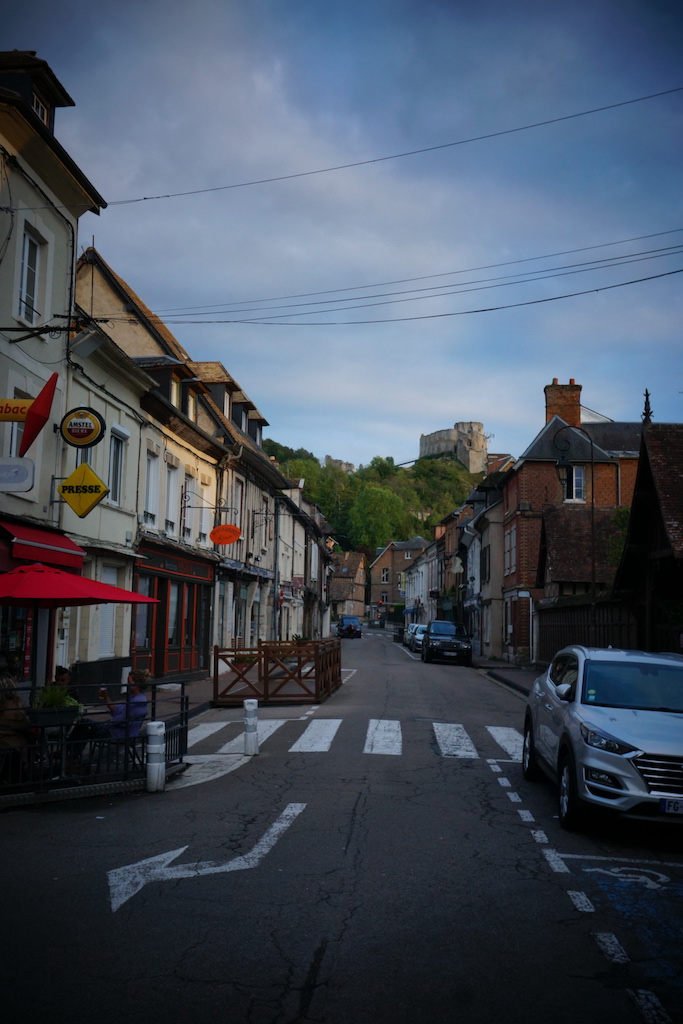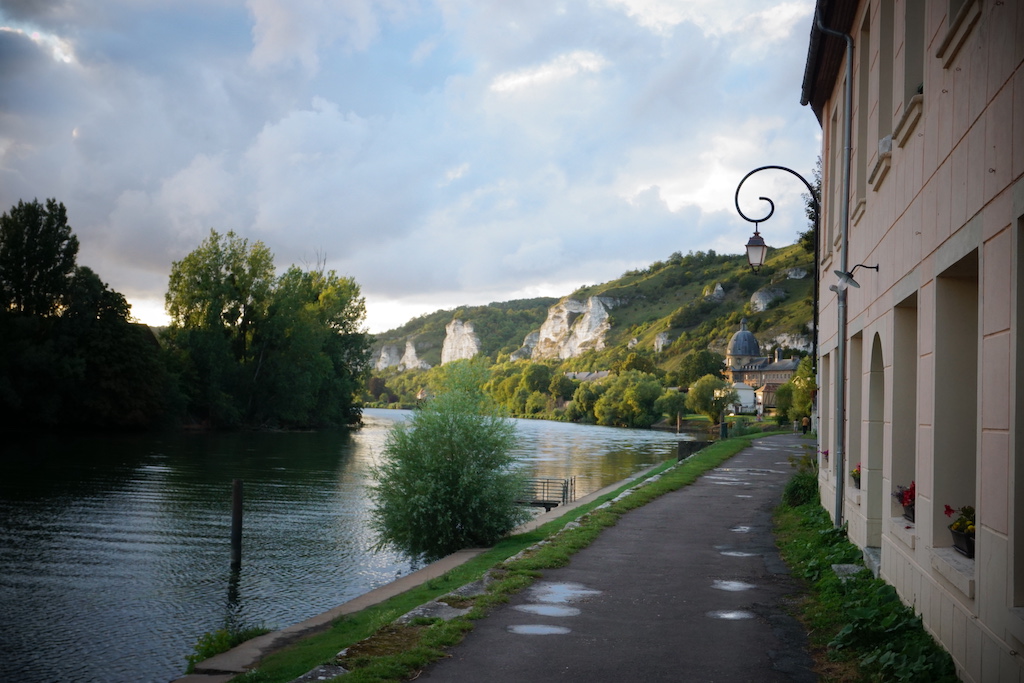 _________________________________________
day 3: 62 mi - les andelys to la bouille
we had intended to cover a lot of miles on day 3. some elements worked against us, while others played in our favor. upon loading our bikes up after breakfast, kaylie realized her rear tire was popped. it took me more time than i'd like to admit to change it, but it got done. by the time i finished, the morning rain had passed. the scenery way rural for the most part, so we picked up the pace with no guilt of not taking in what we were seeing. however, kaylie had the misfortune of getting two more flats. the last within 5 mi of the second. what luck!
we made it to rouen by about 3:45 pm. while the city looked like a good time, we agreed that its not ideal while bike touring. its like walking around downtown with a big ol' wheelie suitcase. we gorged on some vietnamese food, saw the clock, notre dame, picked up some spare tubes, and bolted. on our way out a french couple caught us at a light and said they saw us back at pont de l'arch. they asked us where we were headed and wished us luck on our trip. must be the yellow jersey. we finished the day with another 12 mi to la bouille and had a bottle of wine at the hotel. that put us to bed pretty quickly!
weird coincidence - pont de l'arche came up again. yesterday i was hanging out with the dogs in the park sunbathing amongst the parisians and reading my book on norse folk. while taking advantage of a power struggle in 9th century france, the vikings were flooding the seine and wreaking havoc. once charles the bald (what a name to be remembered by) got just a little bit a stability back, he started setting up bridge fortifications along the seine to dwindle the hoard of invaders. one of which was at pont de l'arch.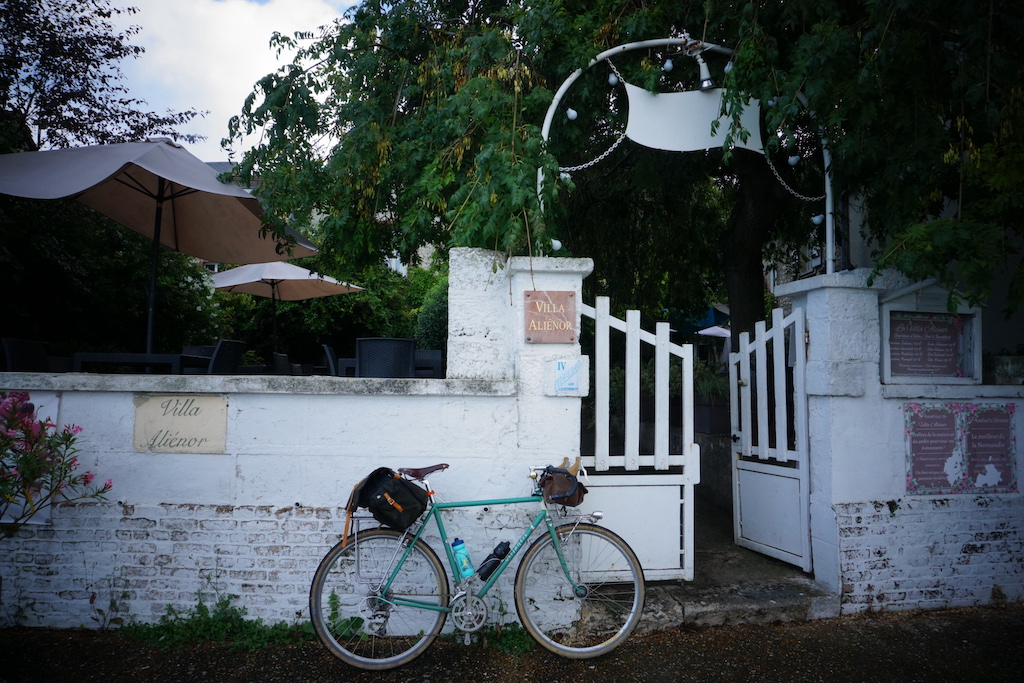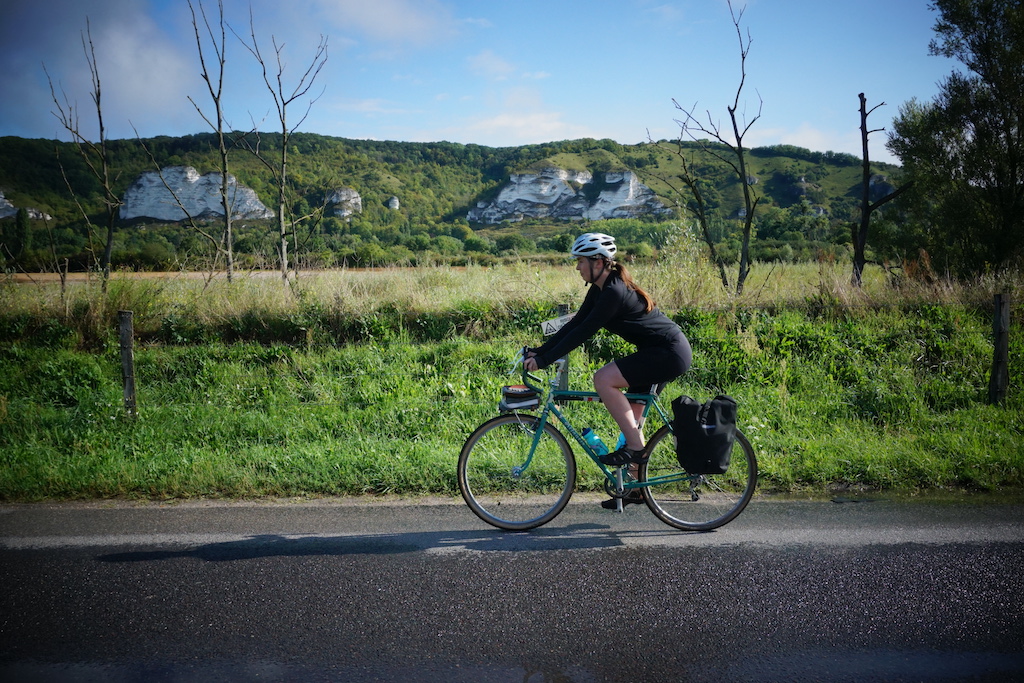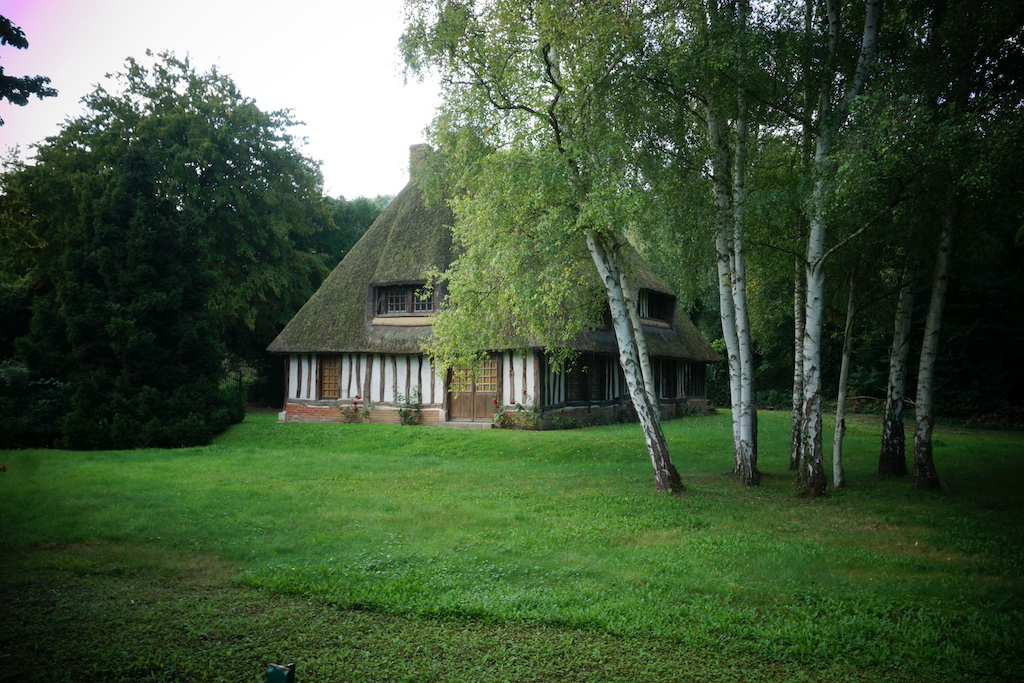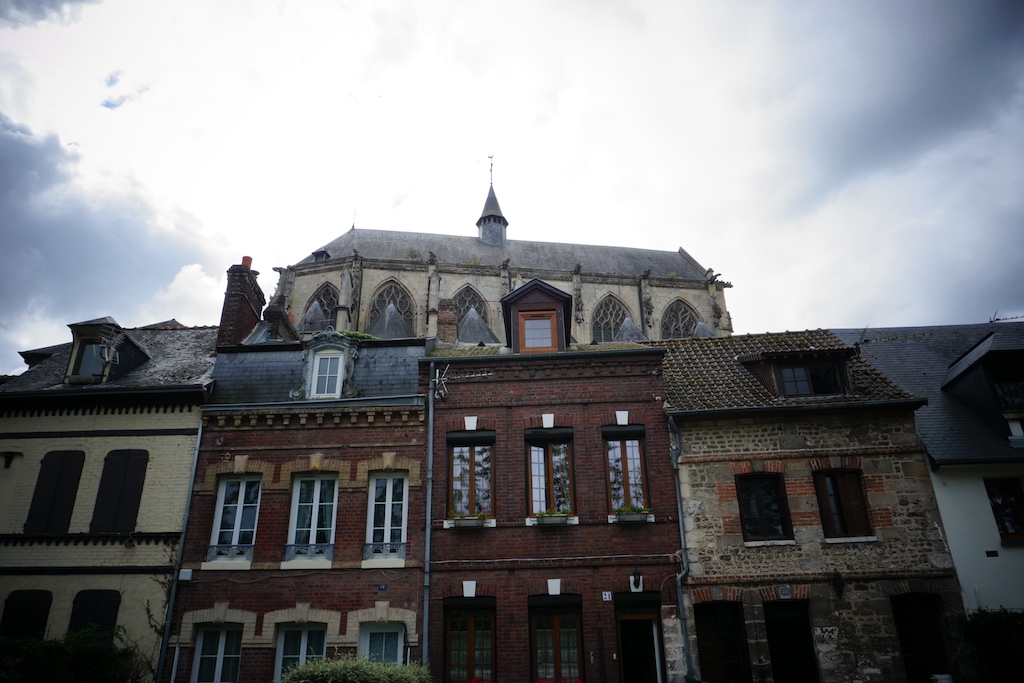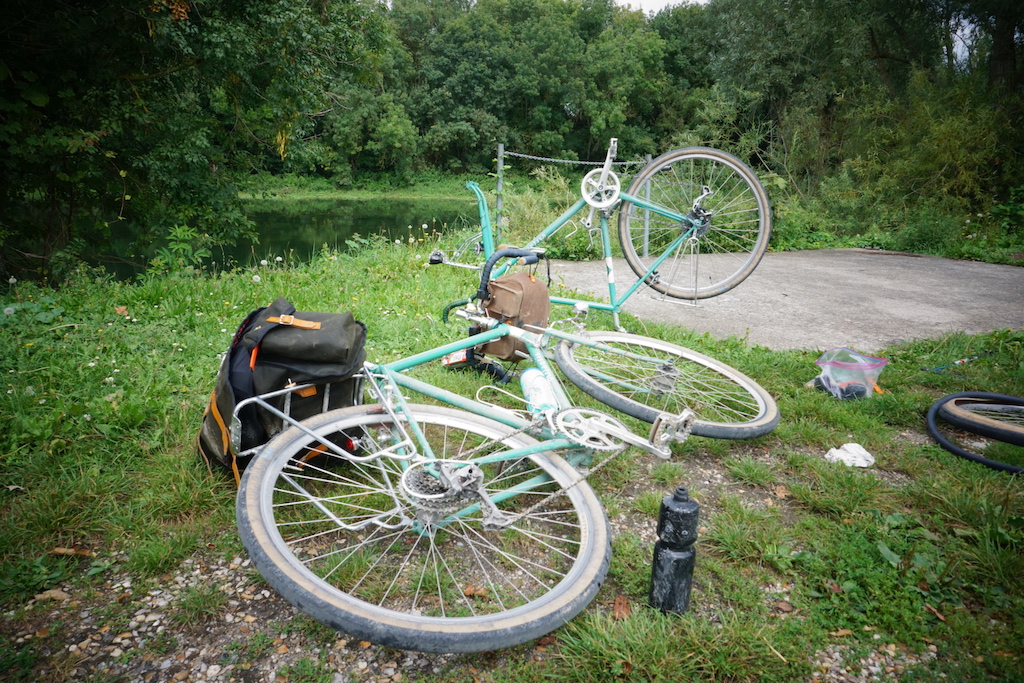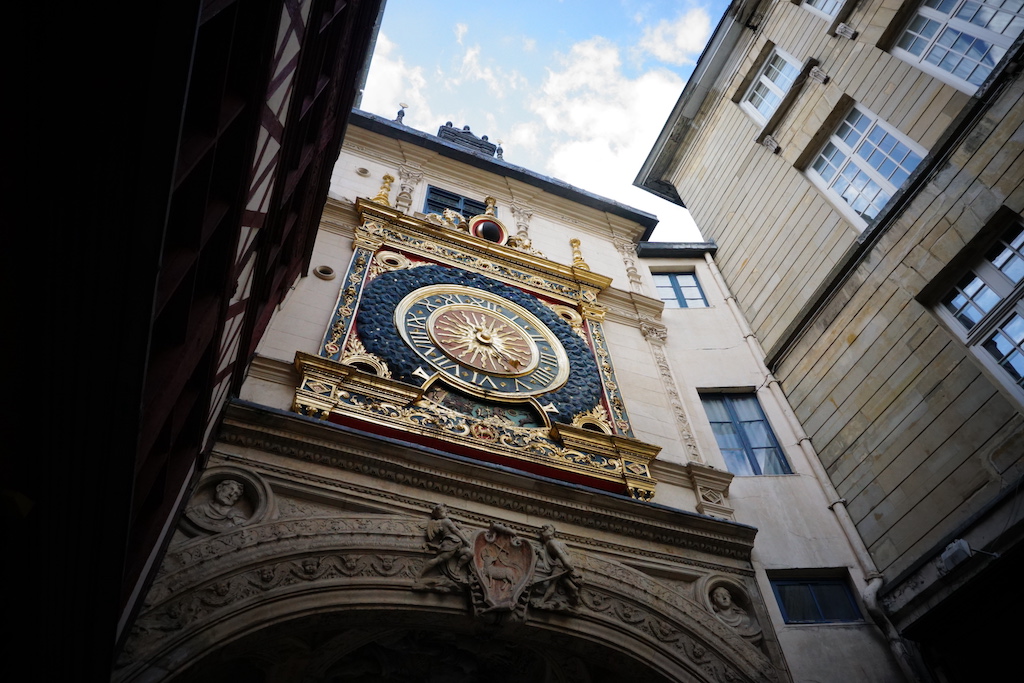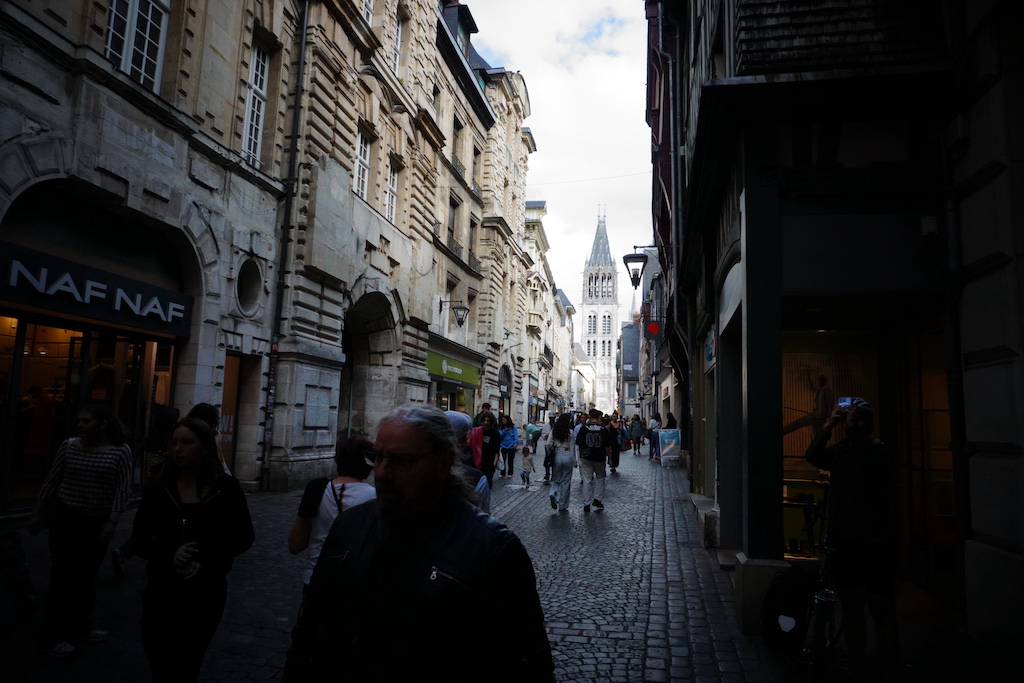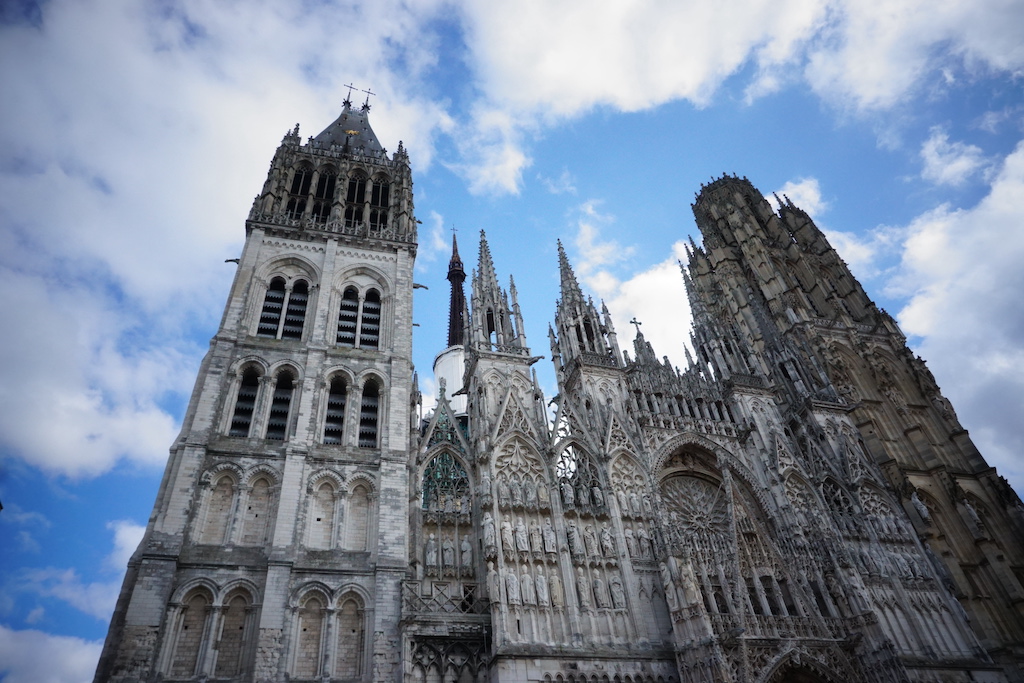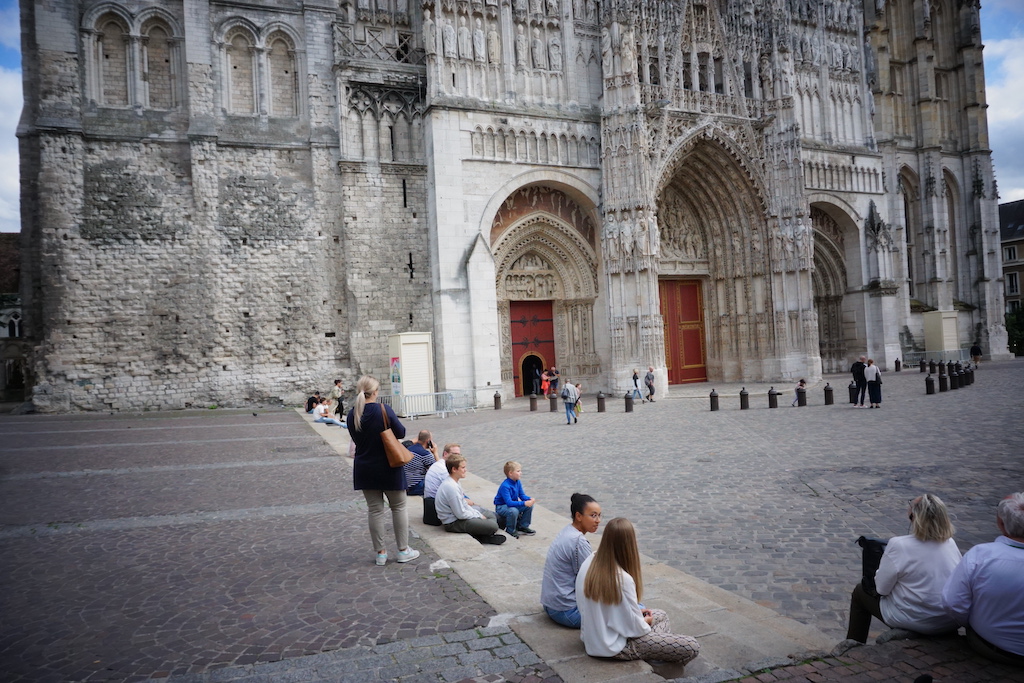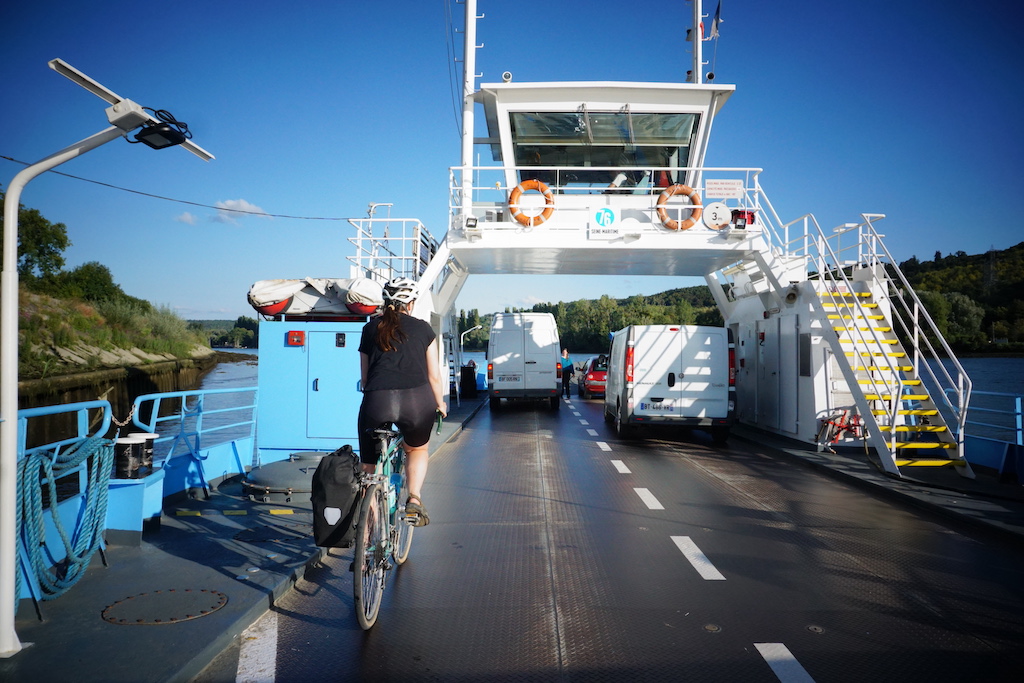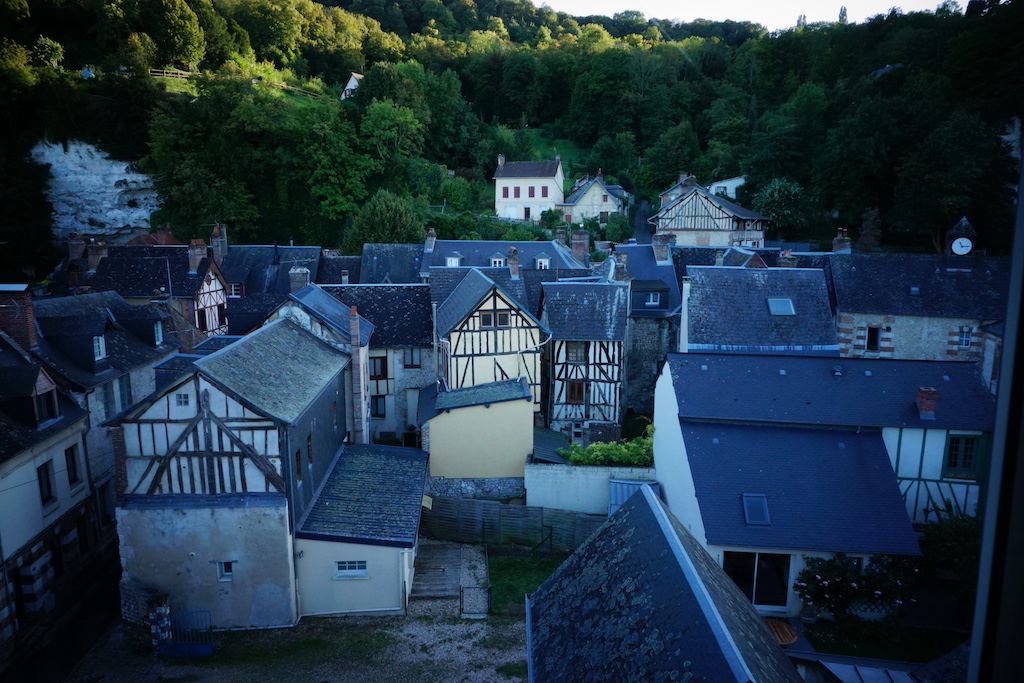 _________________________________________
day 4: 70 mi - la bouille to honfleur
roadie day - almost all pavement section and lots of orchards. had to hold back my urge to pilfer some apples and pears. this was kaylie's longest ride she's ever done in a day, and it didn't come easy. another flat (she fixed her first!) and a bug in the eye sent her crashing into a stinging nettle bush. none of that kept her from smiling throughout the route - good shit kaylie!! ended the day celebrating the milestones at a brewery in a newly built strip mall. didn't even know they had those in france. what american serpent came over here with this forbidden fruit??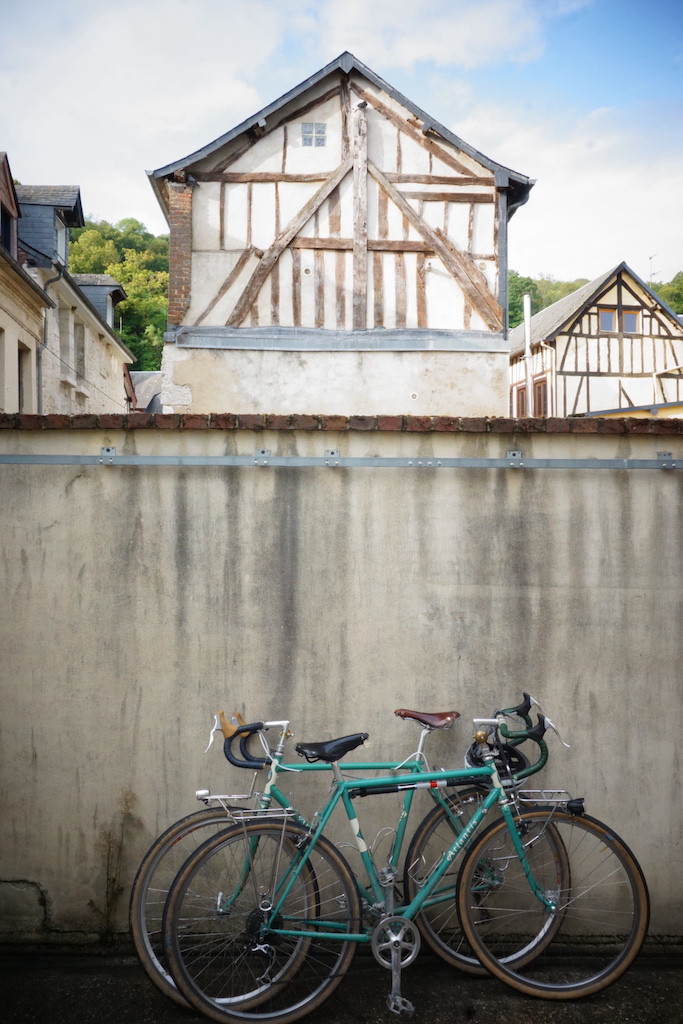 bicycles were stored with the empty wine bottles overnight. maybe our bottle is somewhere in there.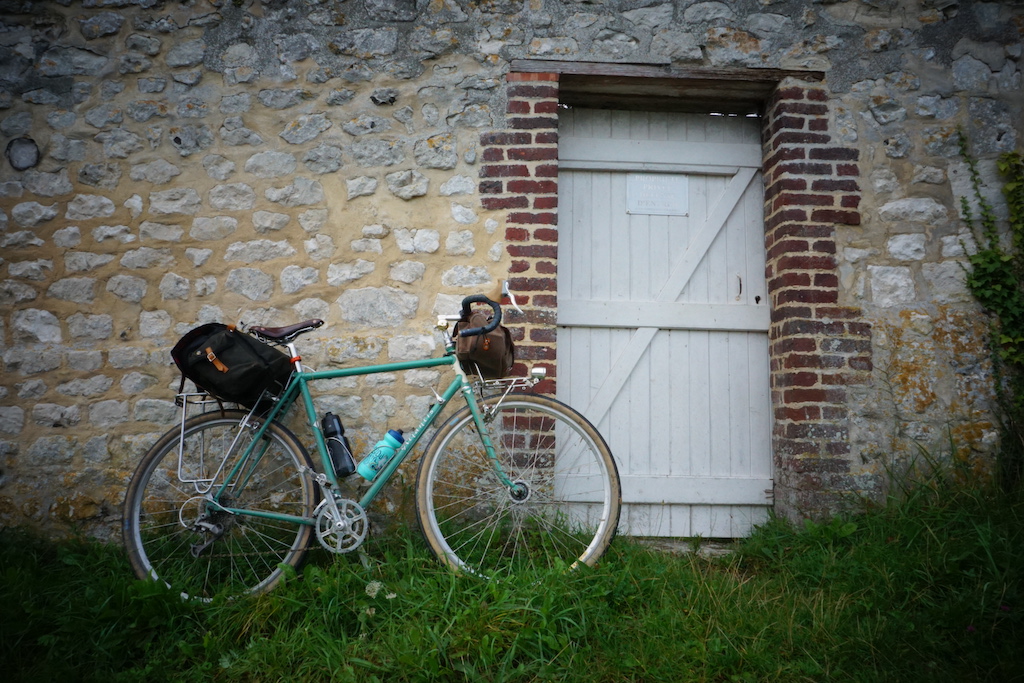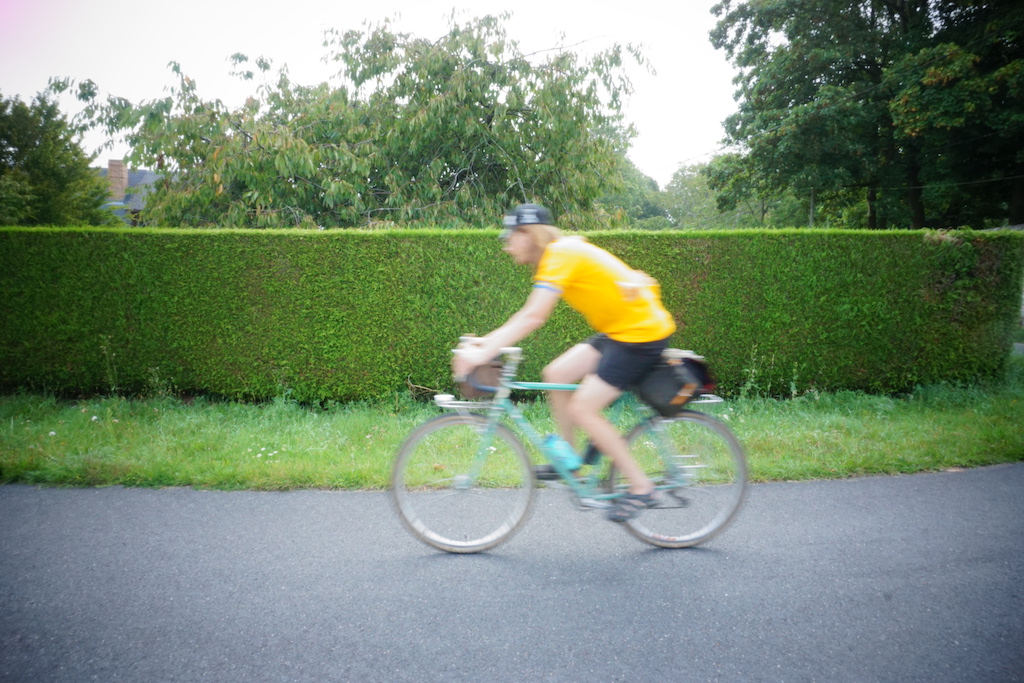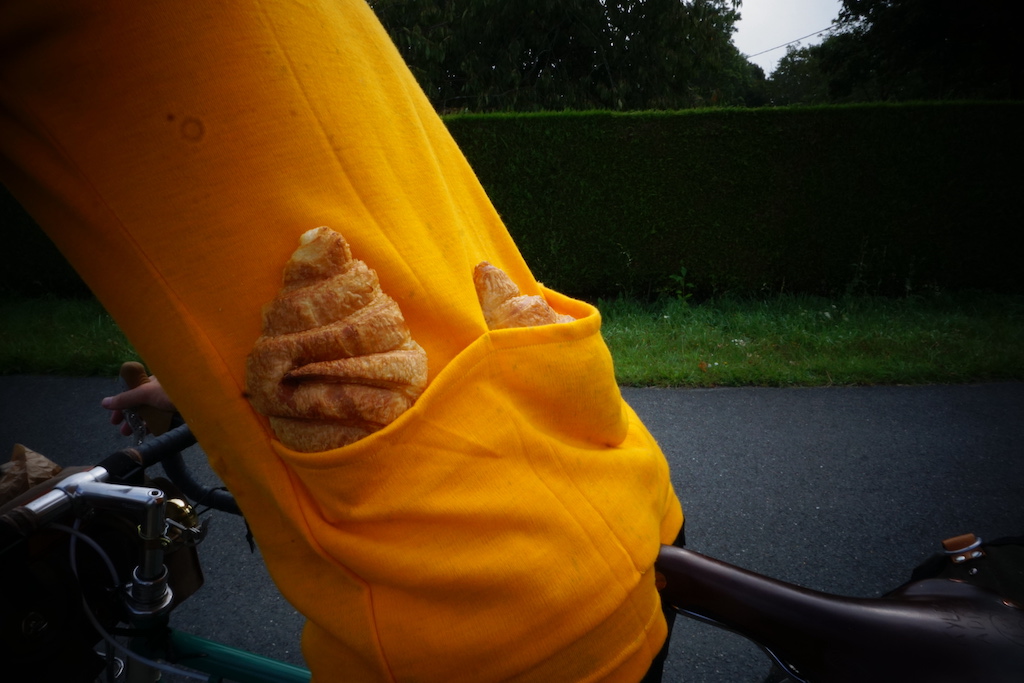 croissants marinating in the rear wool pockets ((っ˘ڡ˘ς)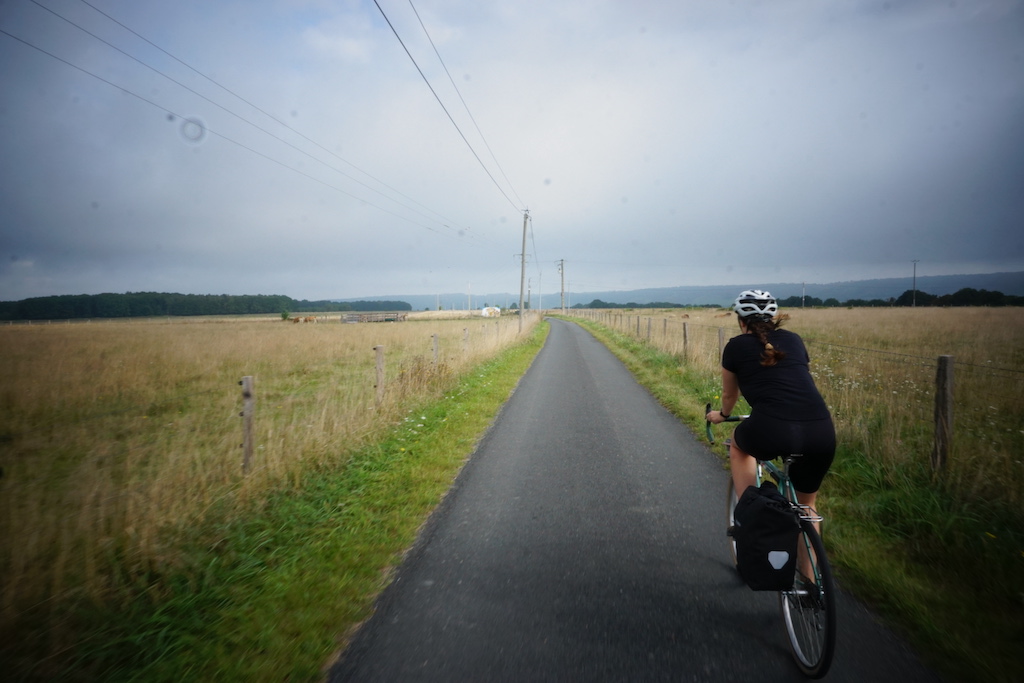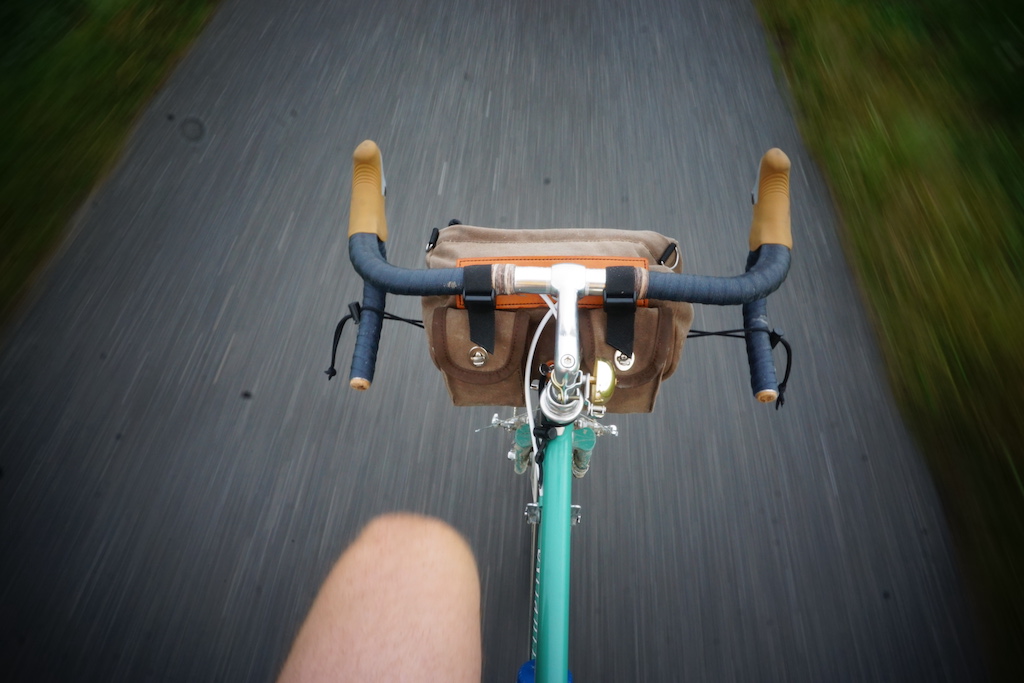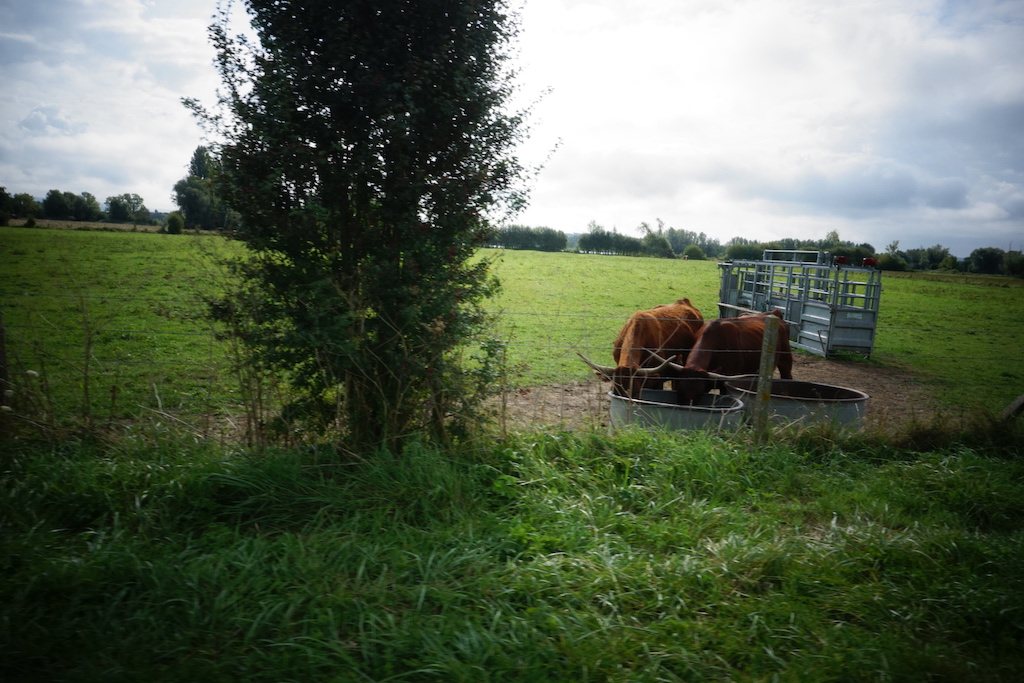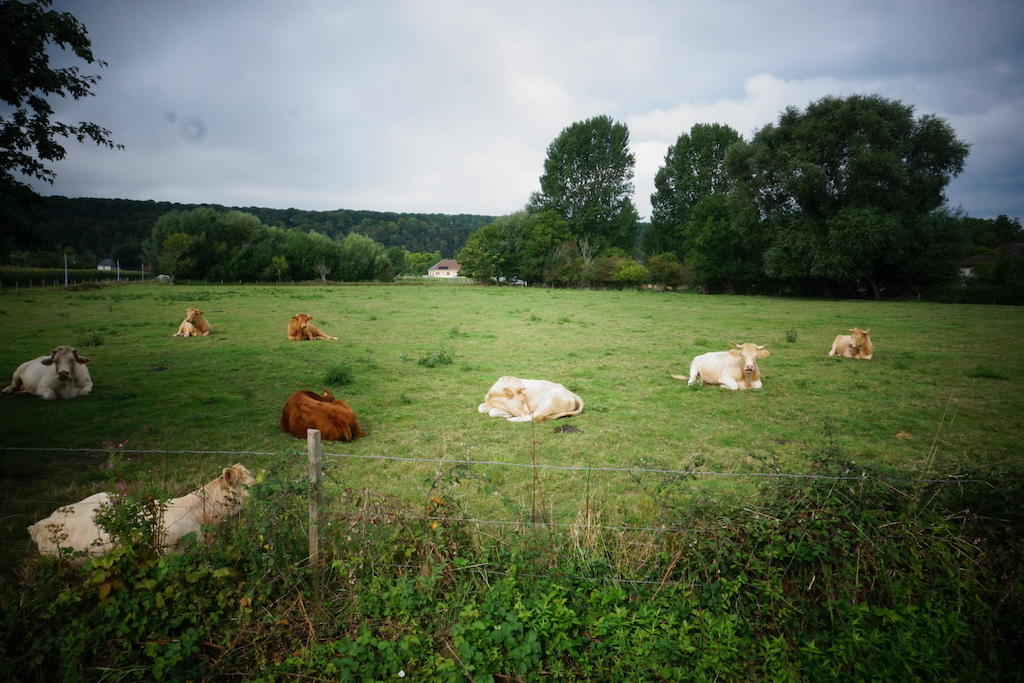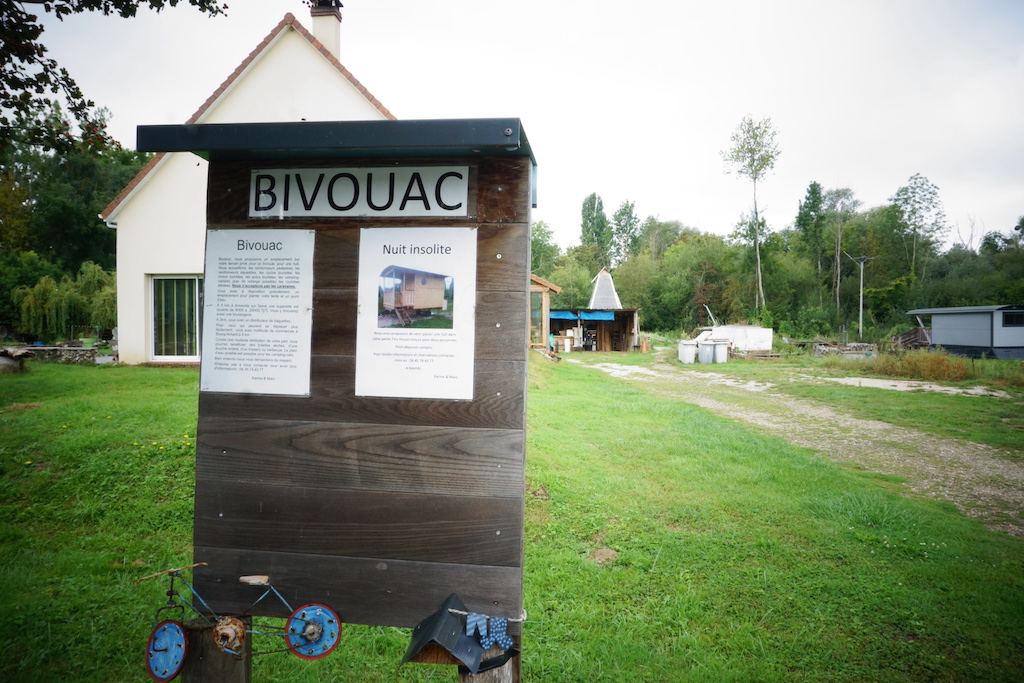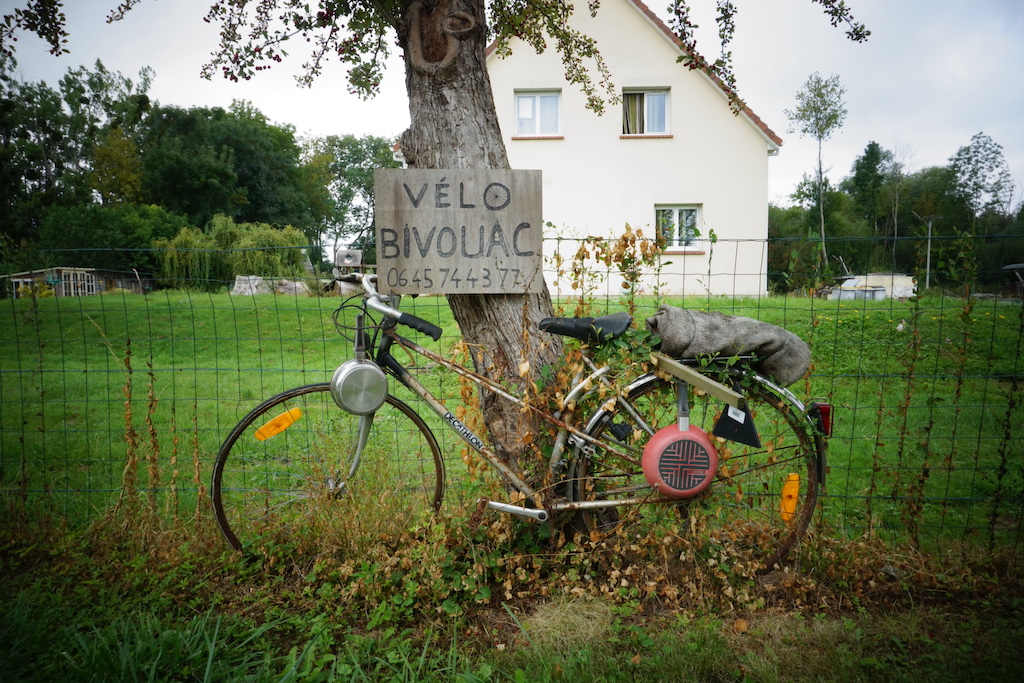 looked like a cozy stay if your interested.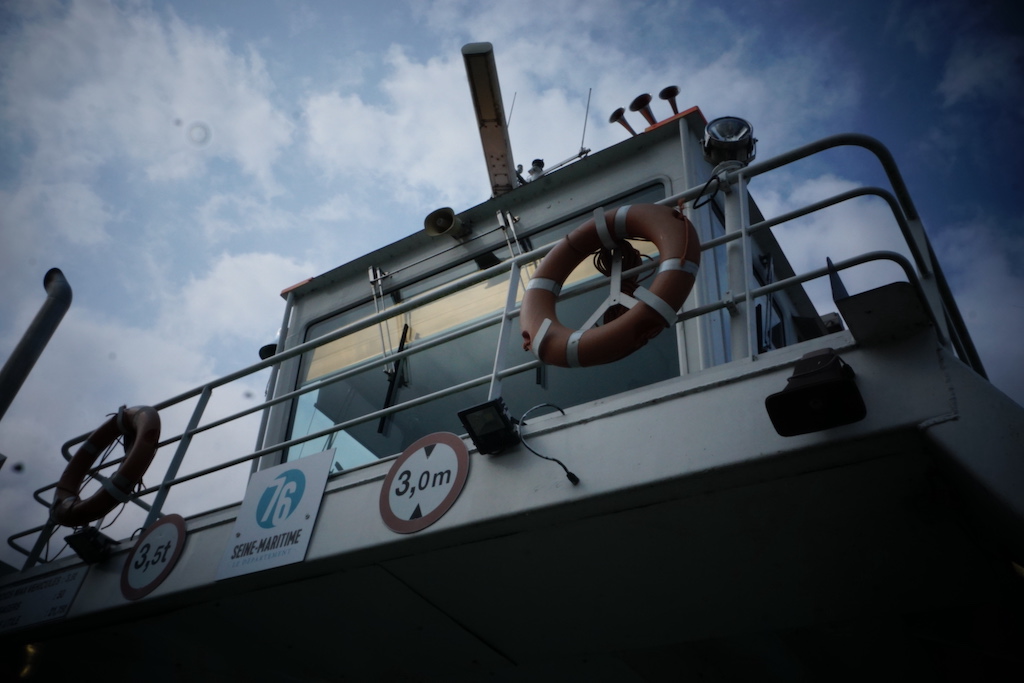 ferry ride #2.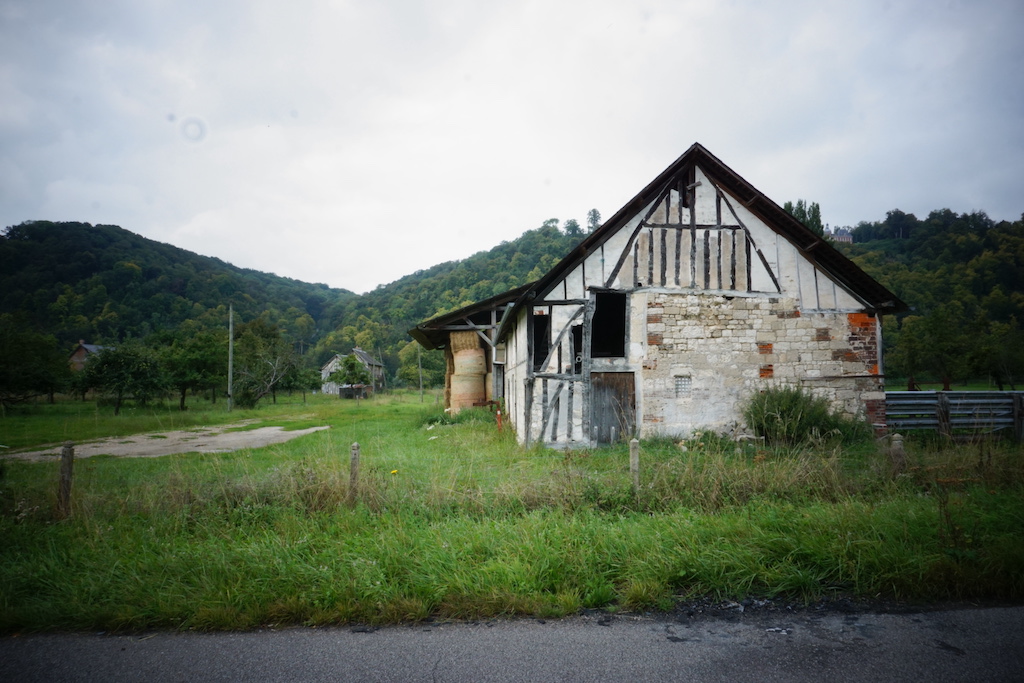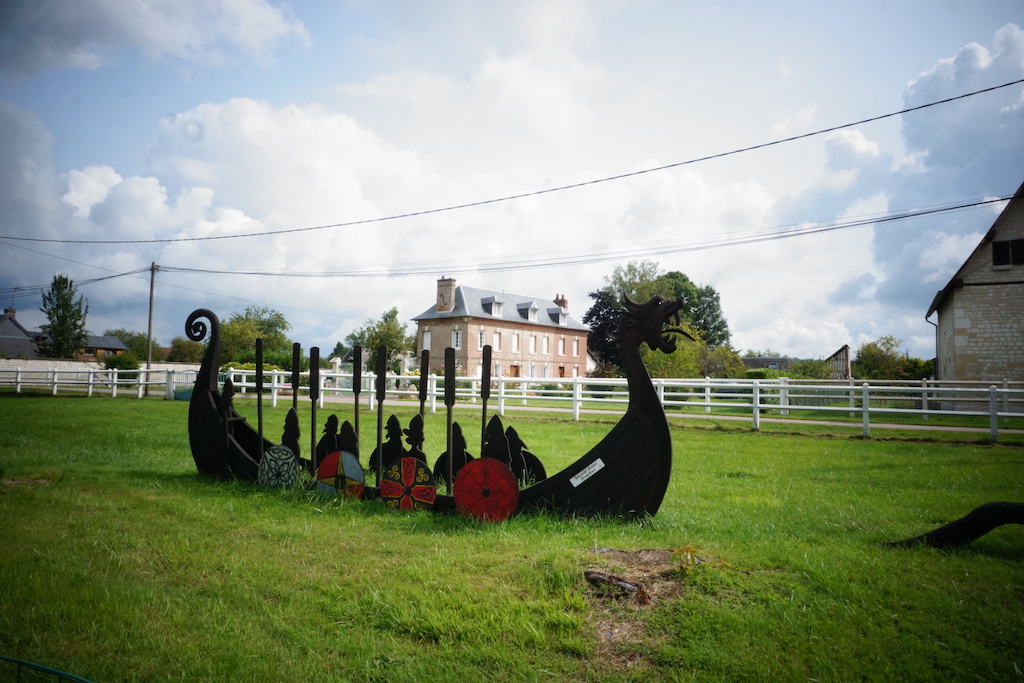 the norse rearin their heads.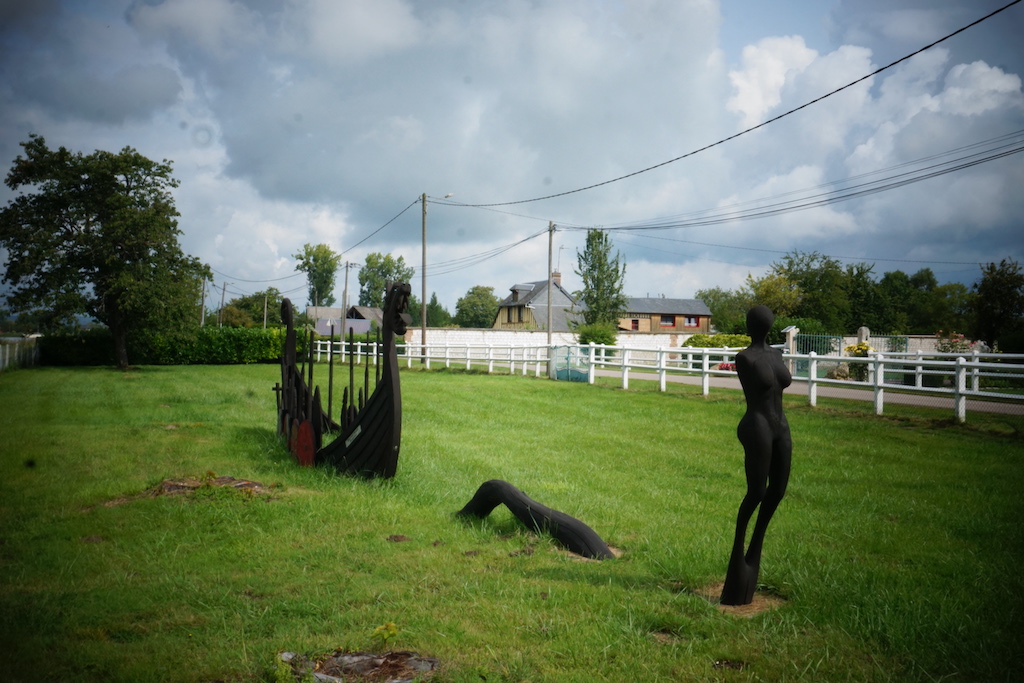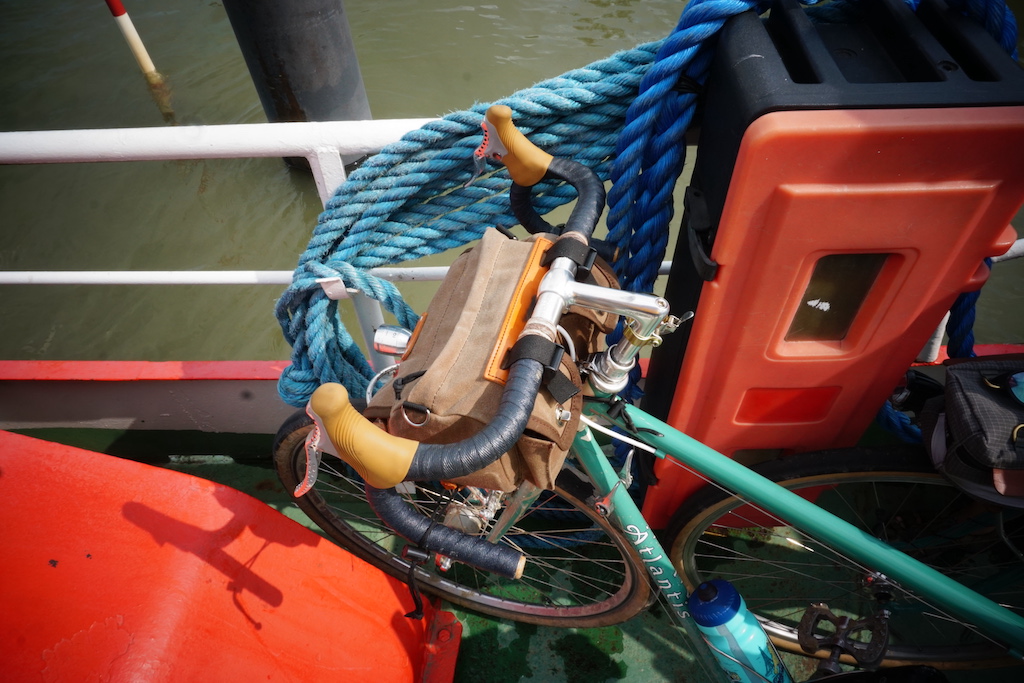 ferry ride #3.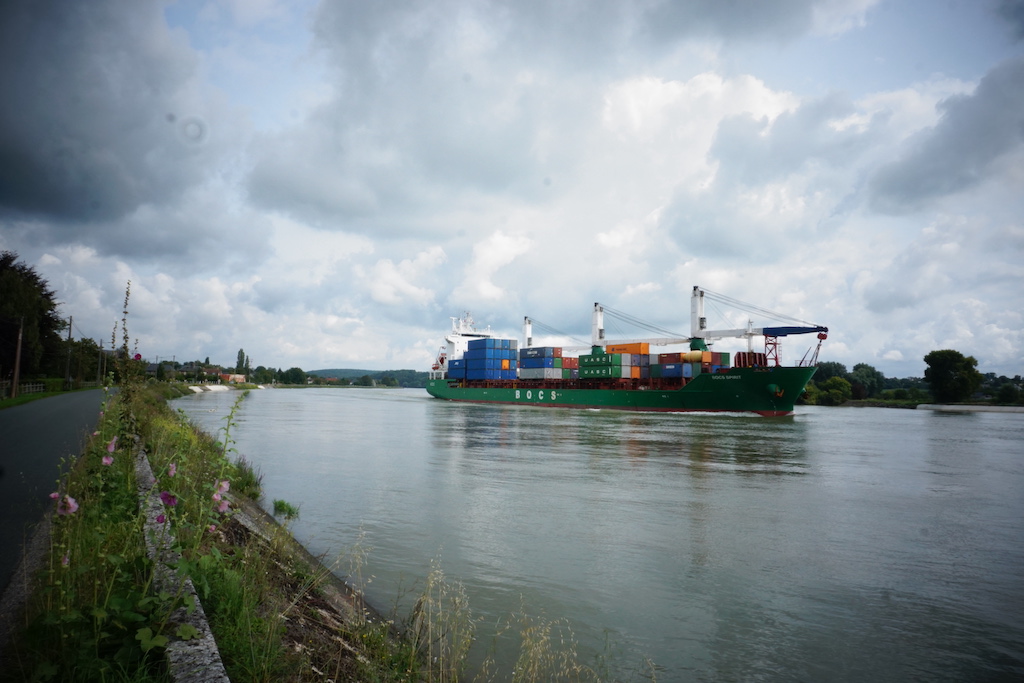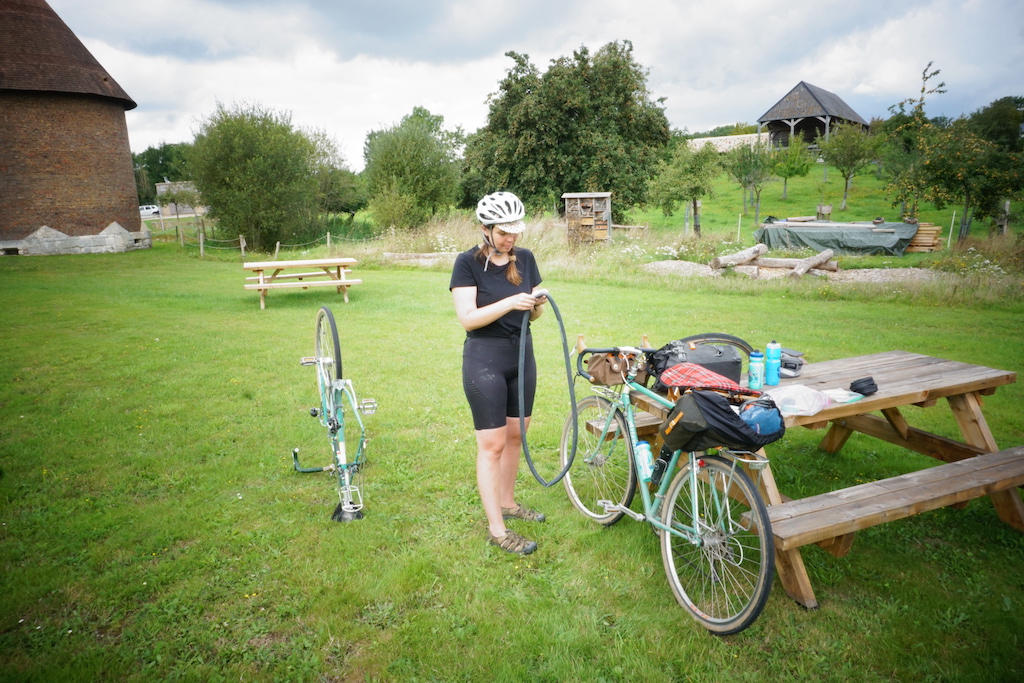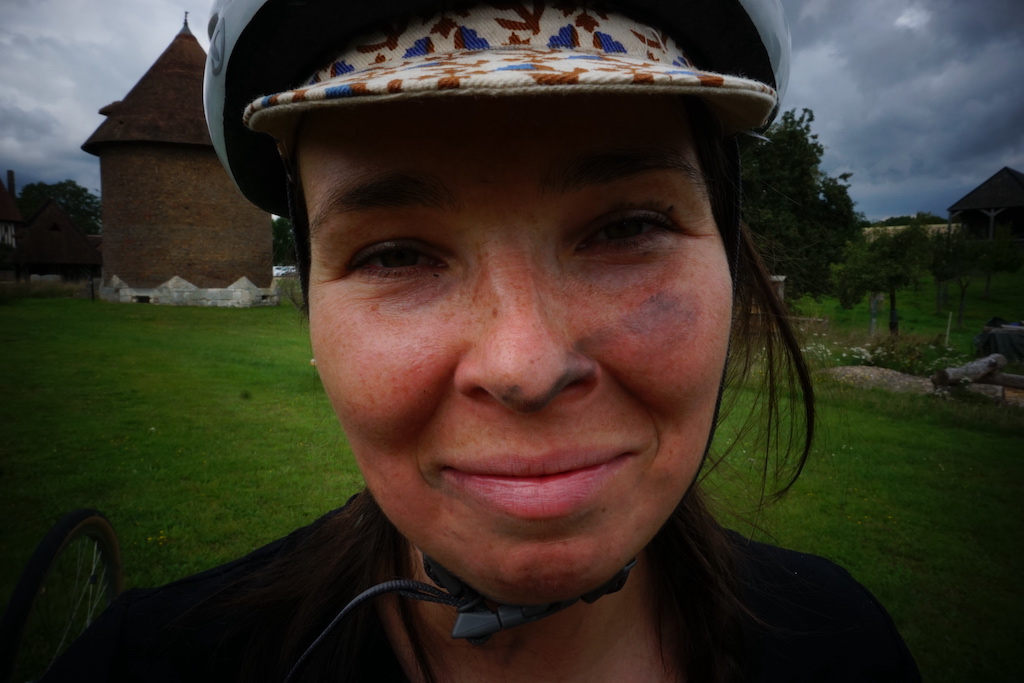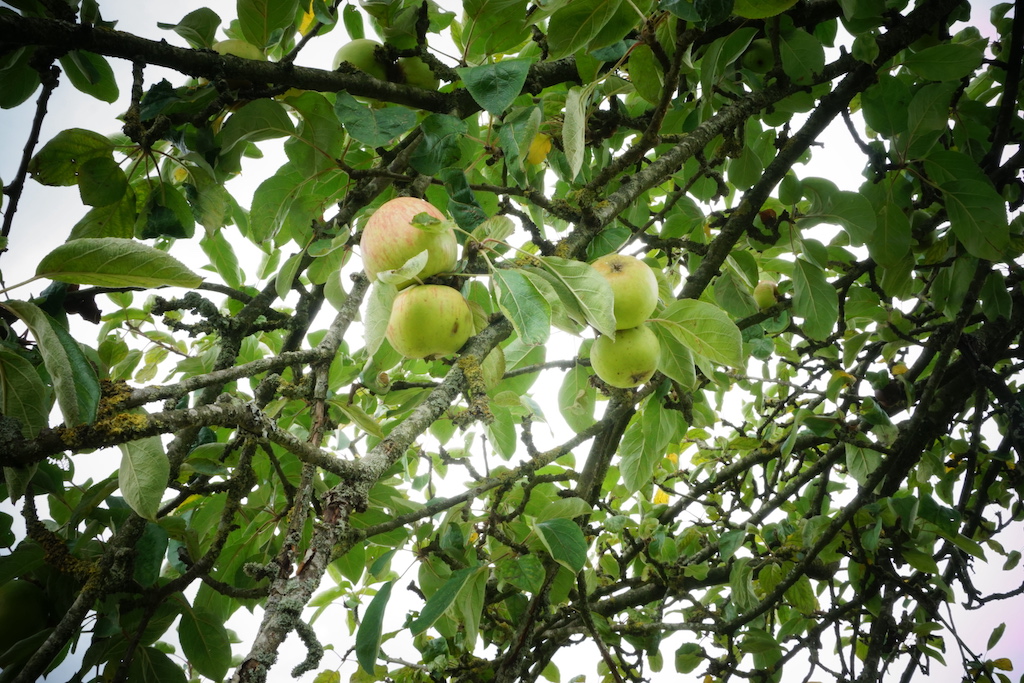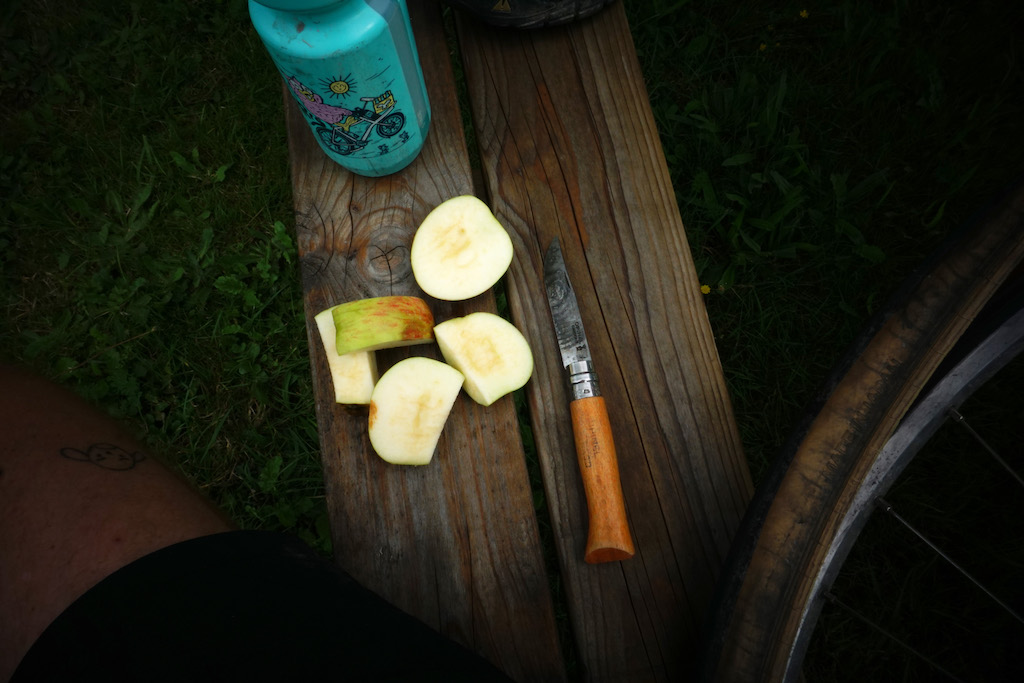 we saw a park out in a random town with several apple trees. i convinced kaylie to pull over so we could ride through. became more of a sit as she pulled over into a thorny shrub cutting. flat #4... she repaired her first tire while i supervised and enjoyed an apple.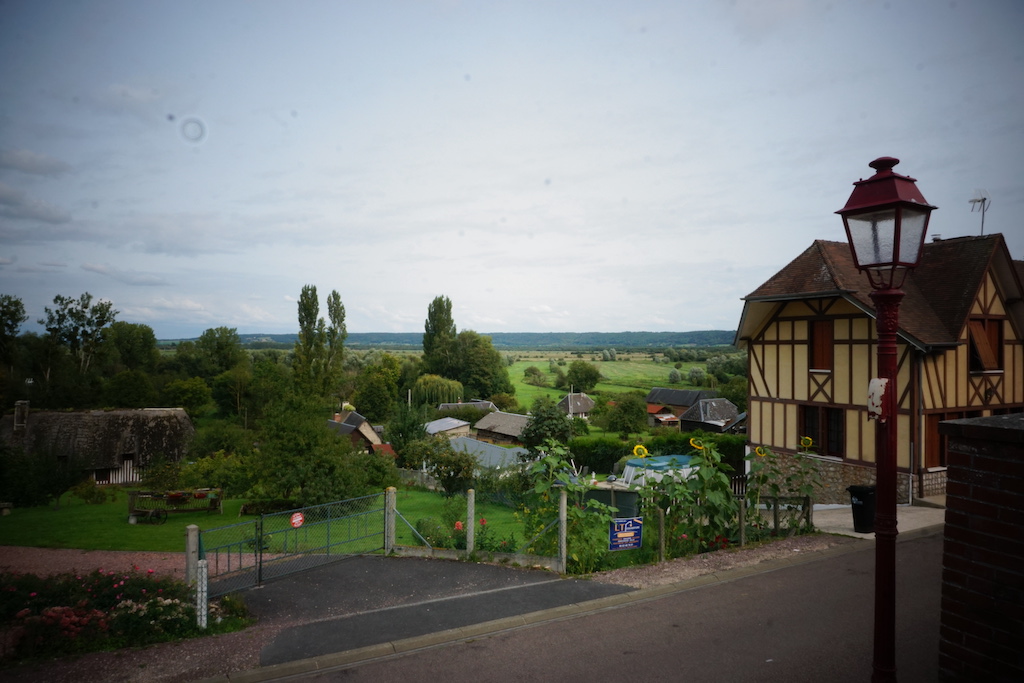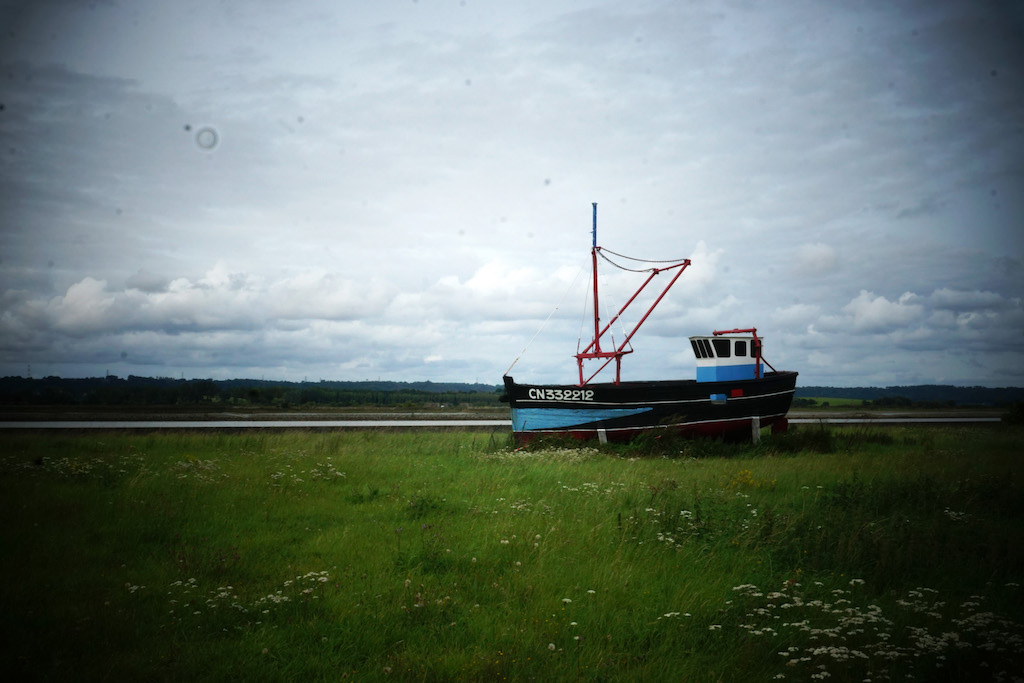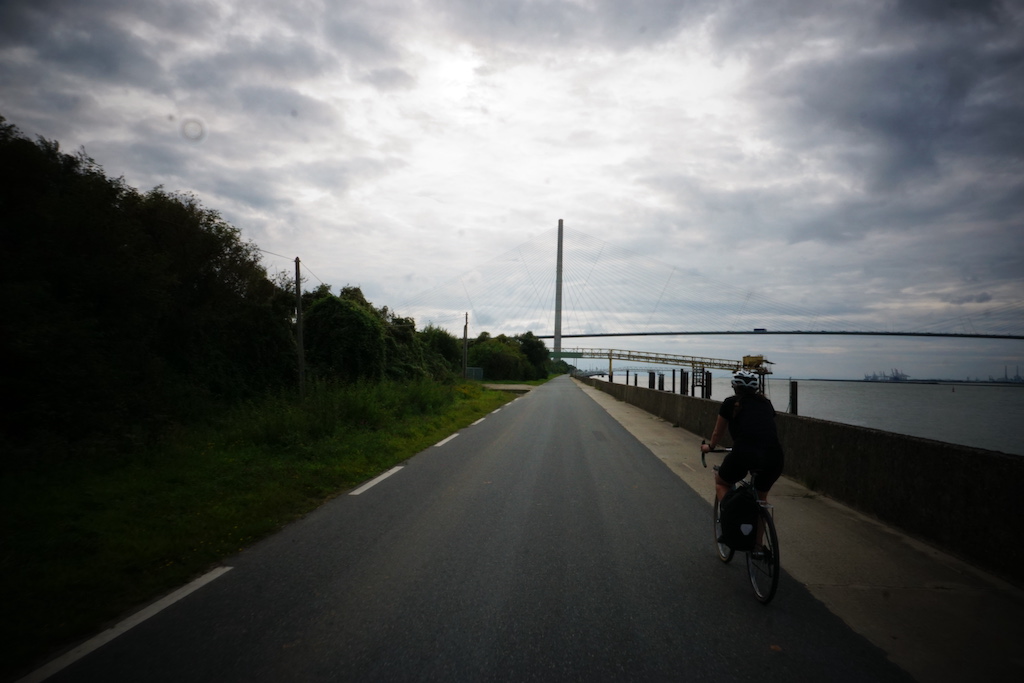 reached the mouth of the seine ◉‿◉.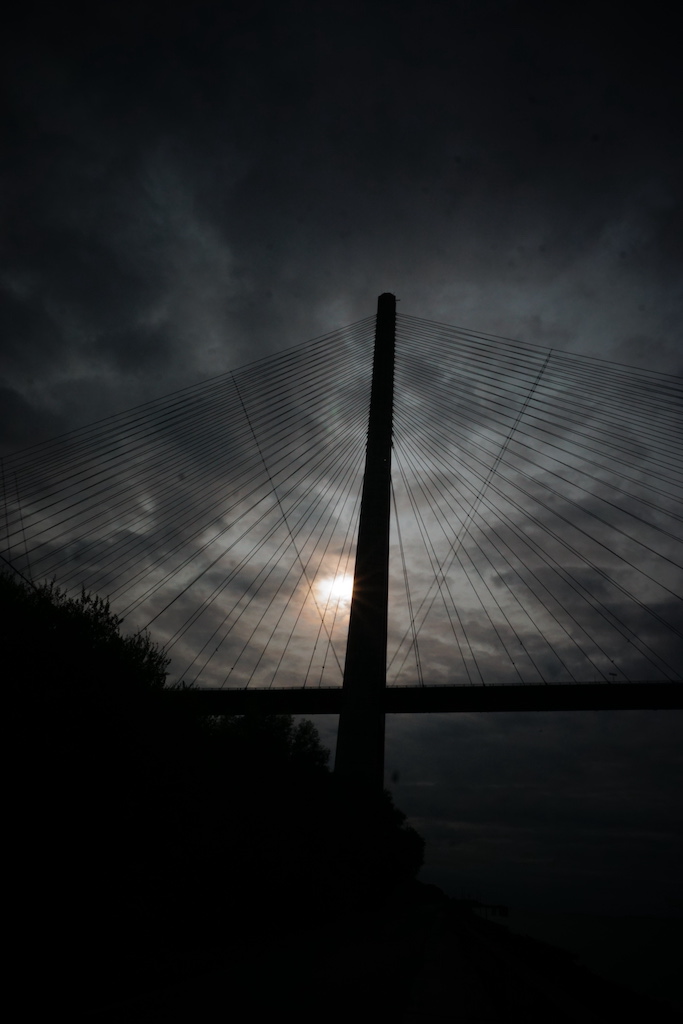 _________________________________________
day 5: 29 mi - honfleur to deauville
the victory lap. our push on day 4 let us have a leisurly 29 mi to finish with and we mowed them down quick. our tires hit the sand by 1:45 pm. someone must have told the mairie a couple dummy americans were completing their ride on the velo seine. the final stretch was lined with american flags. maybe it was for the upcoming american film festival, but who is to say? we treated ourselves to celebratory lunch. we ordered our meals and a plate of moules and frites to split. the waiter made a face clearly indicating he thought our eyes were bigger than our stomachs so i naturally took that as a challenge. those plates were cleaned i tell ya.
we made it a pretty bougie little stay. we got ourselves a massage at the hotel, and filled up on seafood, wine, and beer for 48 hours. we took the train back to paris. we made it back to the city, weaved through the bustling streets, and crept down our tight stairwell back into our little apartment.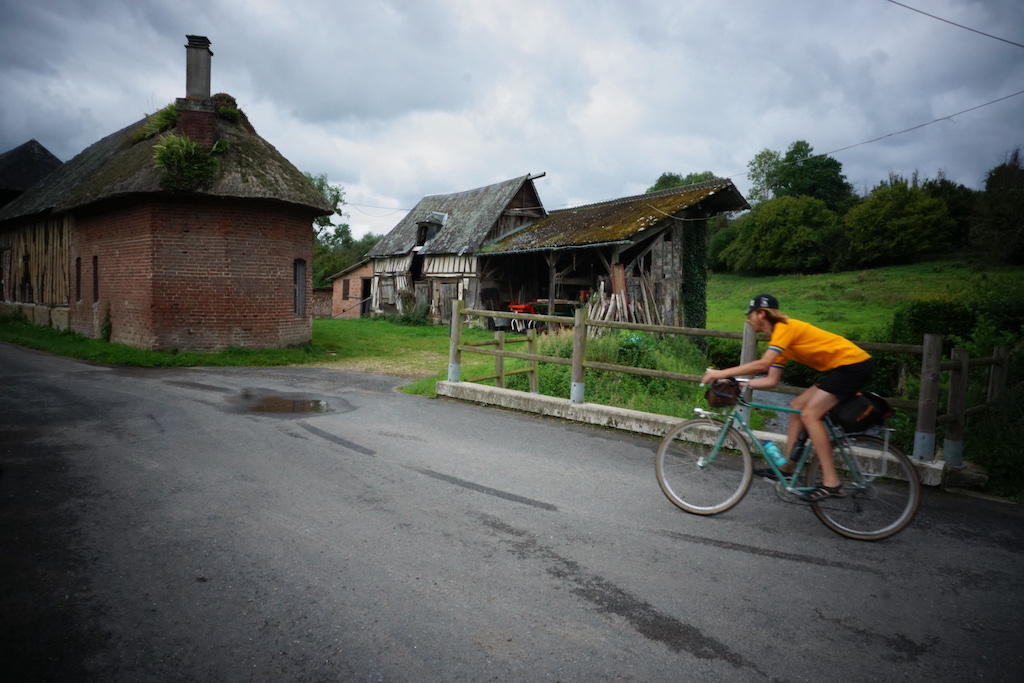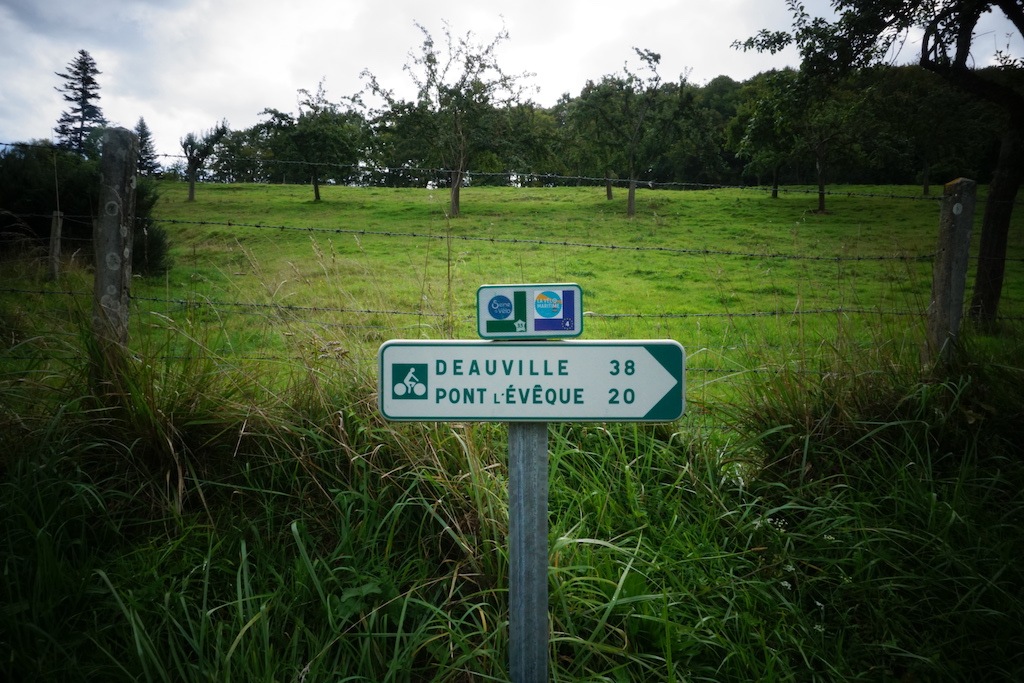 well marked route from saint denis to deauville. if i wasn't so bad at minding signage, this could be navigated with no phone or map.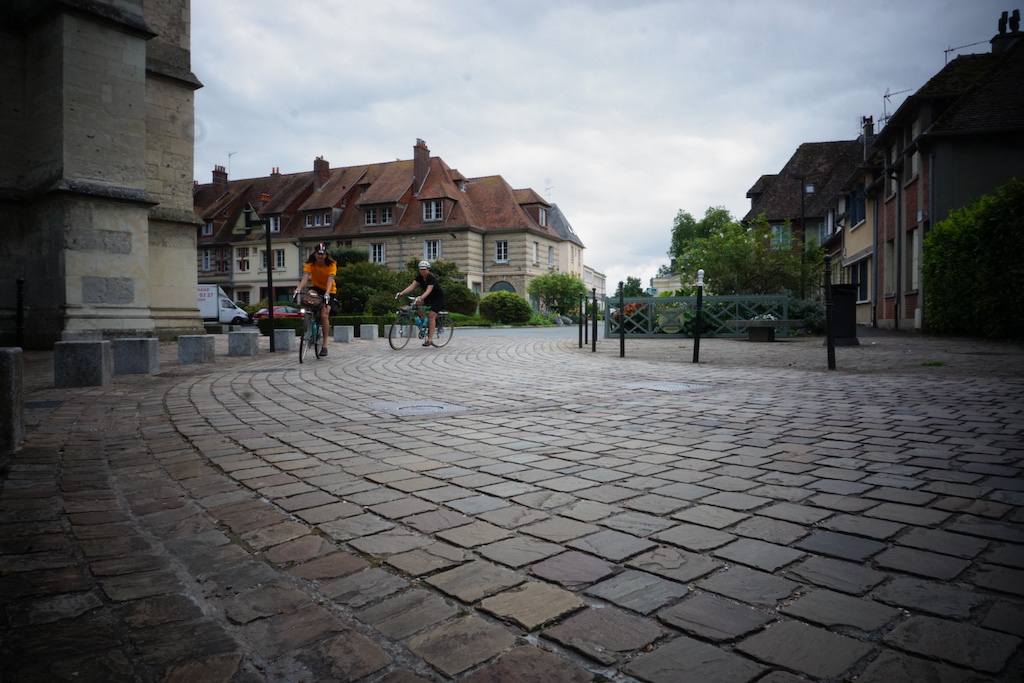 testing out the self timer. 10 seconds to get into action.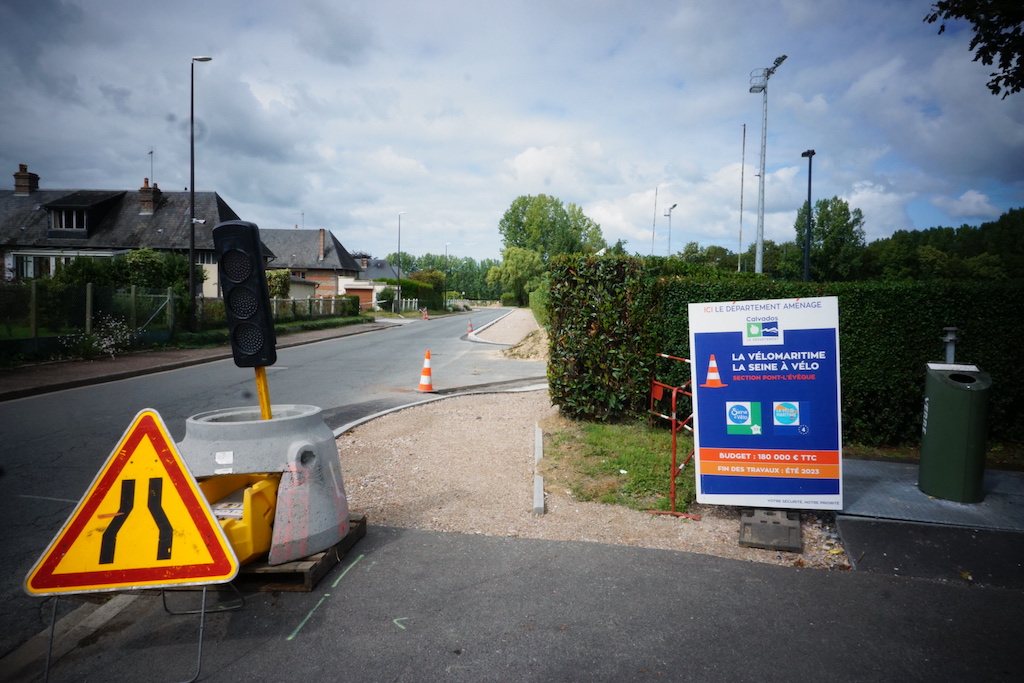 a small town building out a bicycle lane for the velo seine.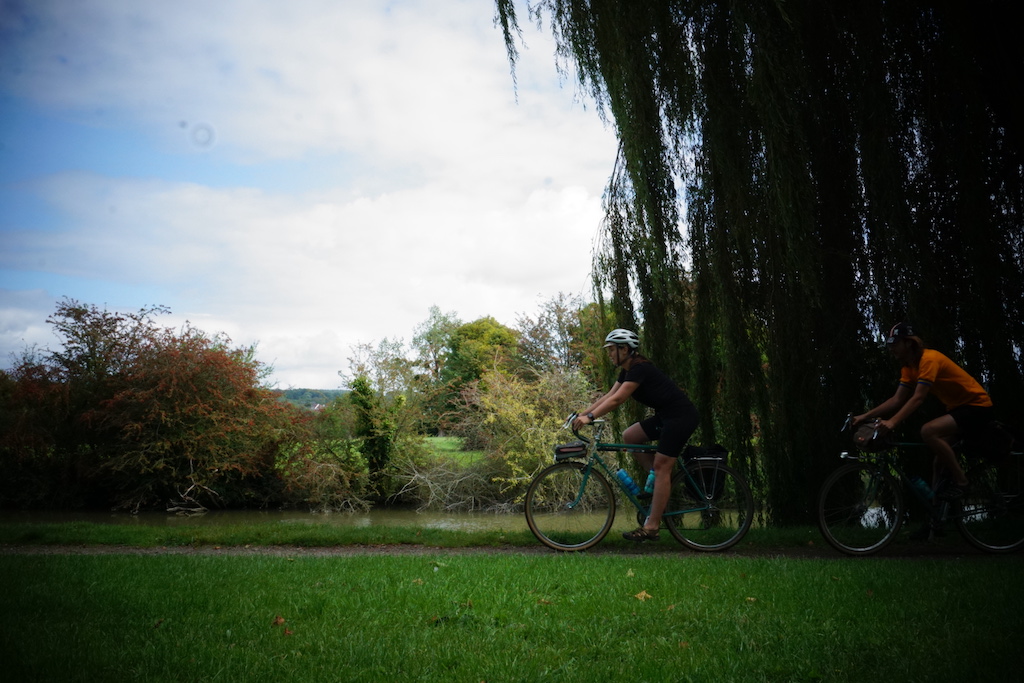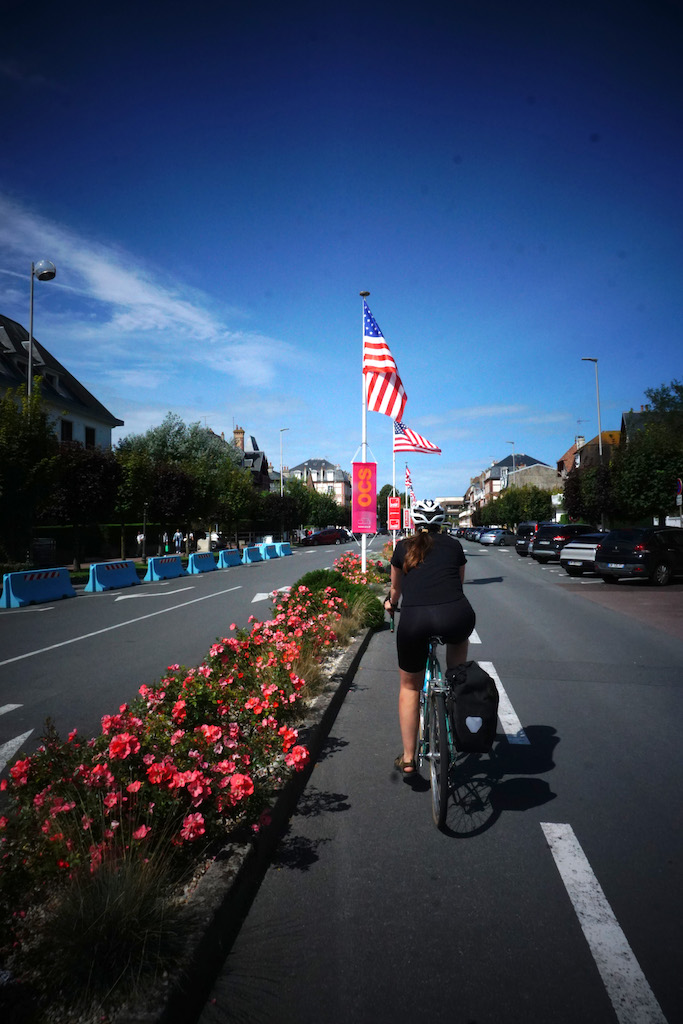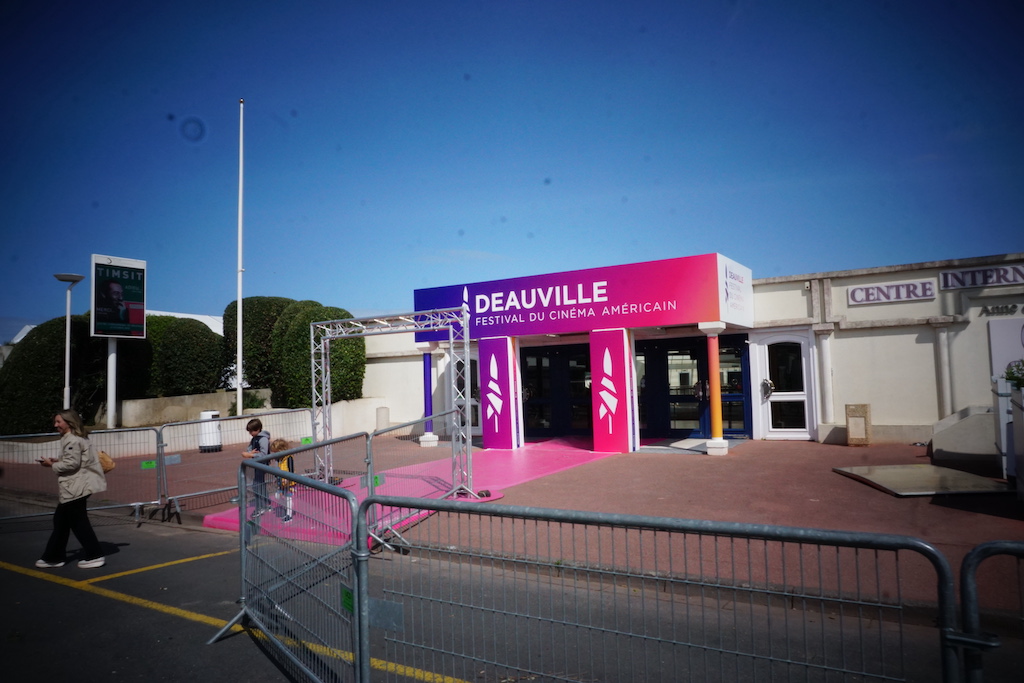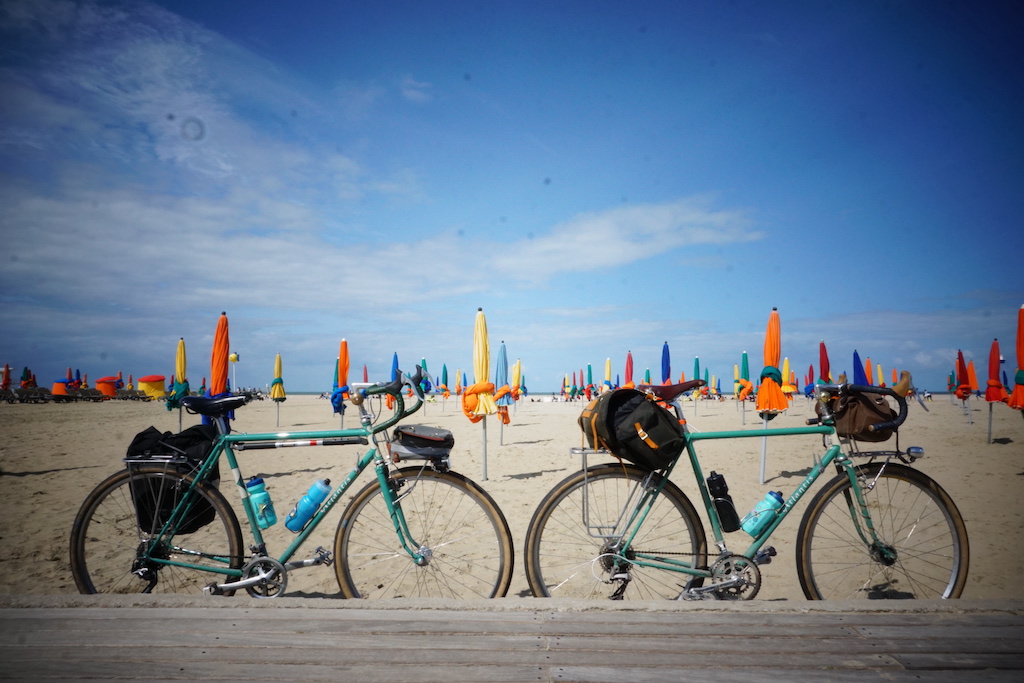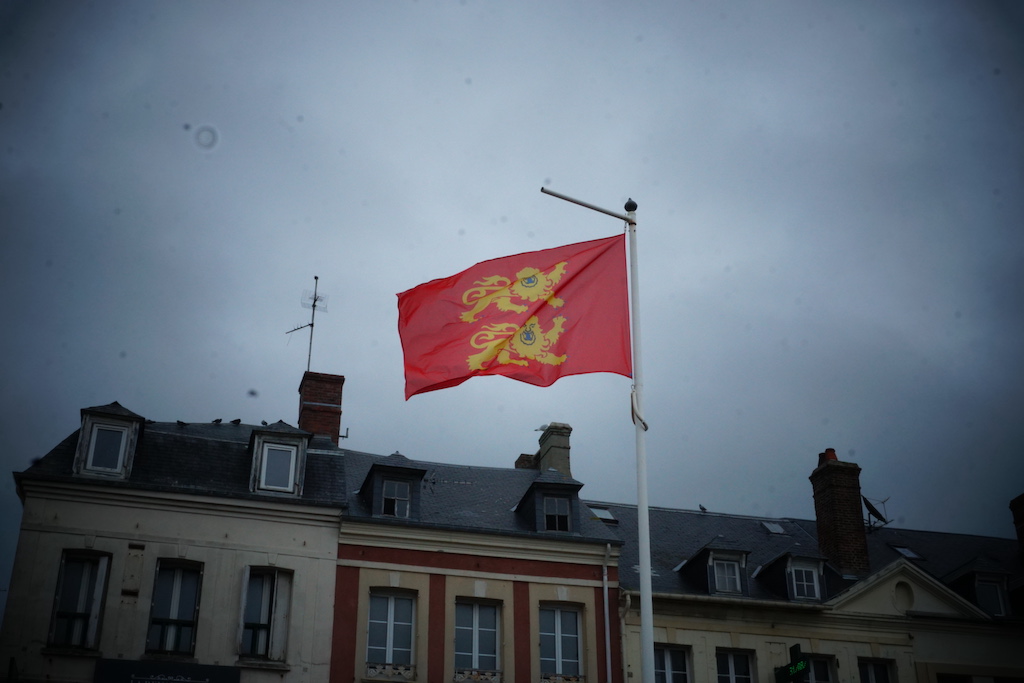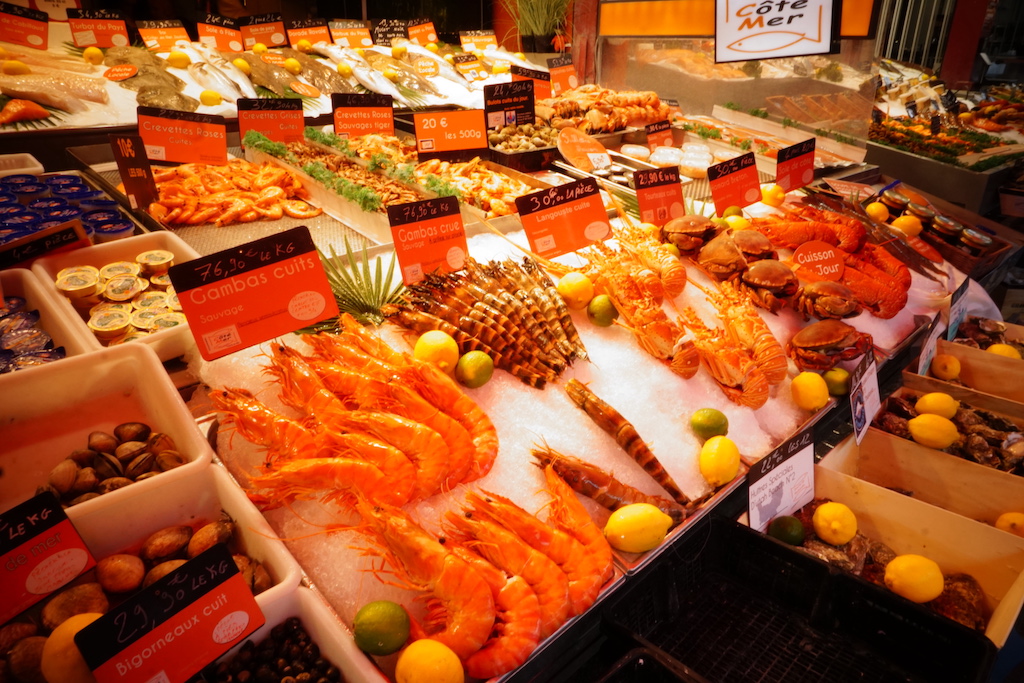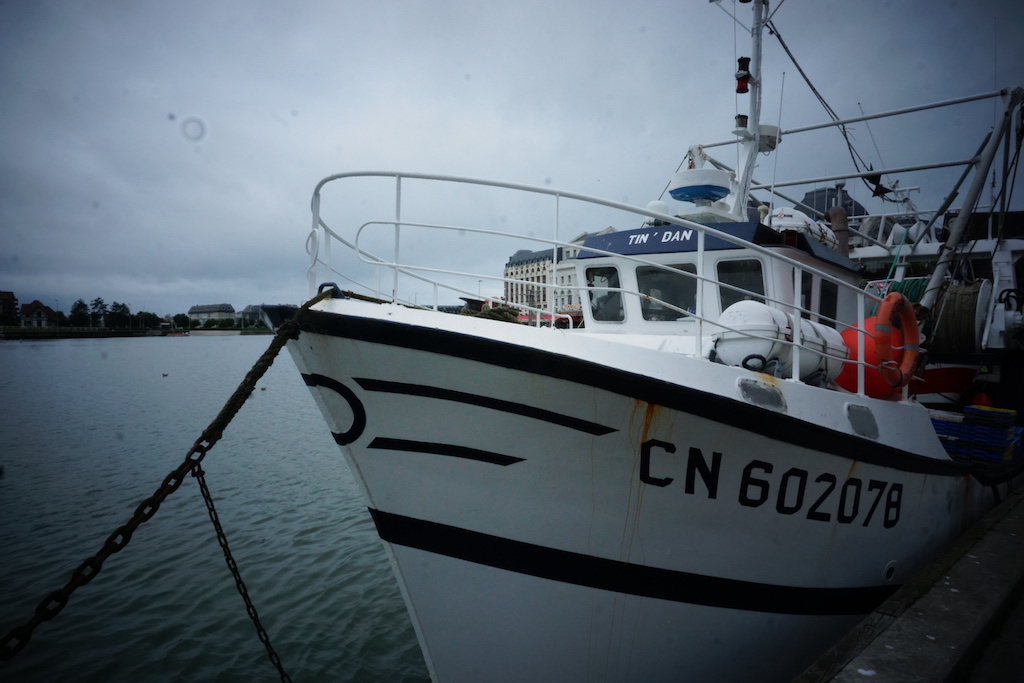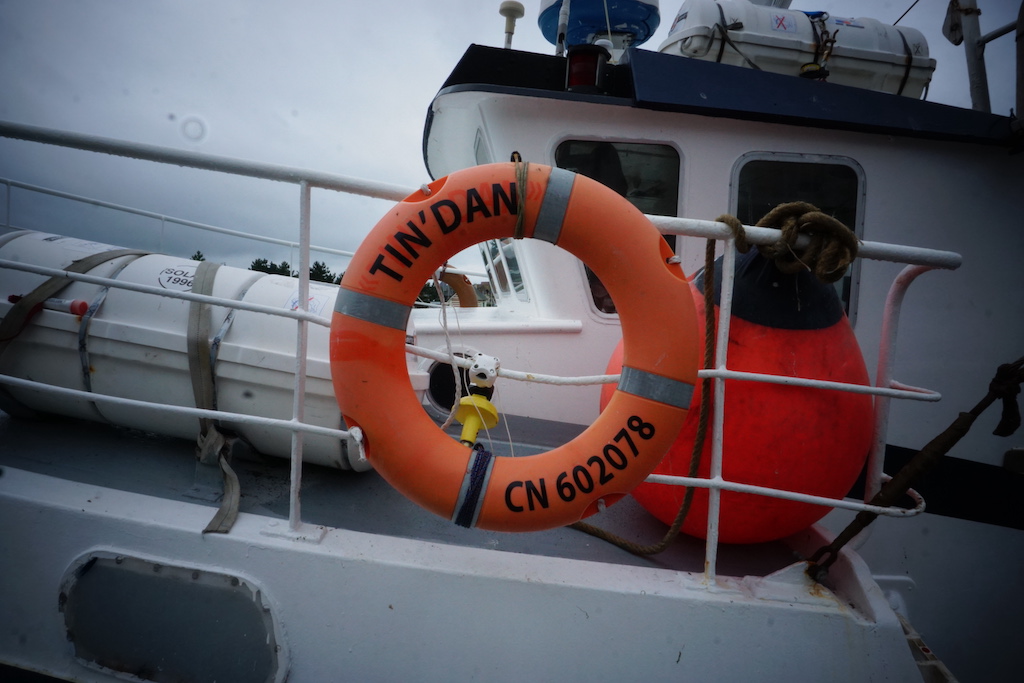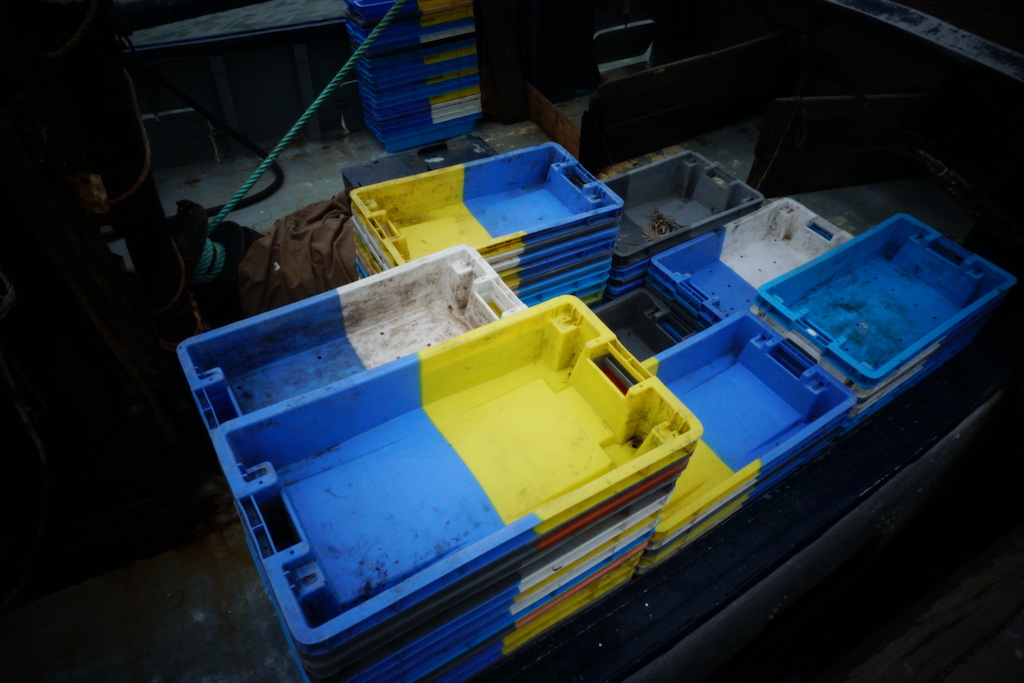 we ate all the fresh caught seafood - sorry.
_________________________________________
this was a good ride to dip our toes into touring on. well marked and plenty of pretty things to gawk at along the route. the wool jersey lived up to the hype. i only rinsed it one night and it was dry by morning. very minimal odor over 5 days. my shorts definitely needed rinsing more often, but those also dried fast being swim trunks. kaylie was wearing bicycle shorts with a cushion. she said she'd bring at least two next time. the only thing in my pack i didn't use was my book. usually too tired after eating dinner to sit down and read some pages. i would replace it in the pack with a first aid kit next time around. hope you enjoyed the photos you internet lurkers.
well you made it through to the end of this long page. enjoy this tour de france video will sent me.
later ✌(ツ).
c r a w d a d c o l l e c t i v e